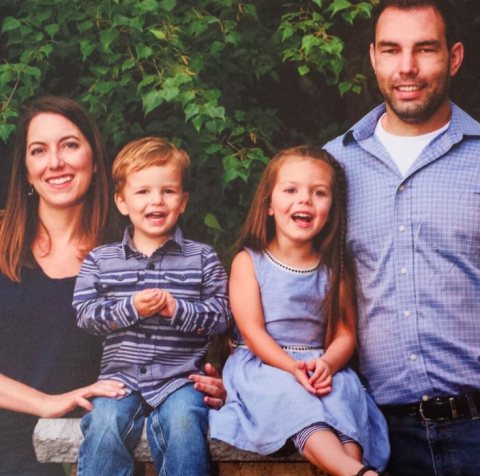 Raising Children to be Multilingual and Global Citizens
I am a proud mom to Zoe (5), and Brendan (3), and a new little one arriving in September!  I have a personal passion for learning new languages and cultures that I seek to instill in my children at an early age.  Professionally, I am an educator with teaching certificates in German, English as a Second Language, and Social Studies, with a Masters in Foreign Language Education, but my motivation and true belief in raising children to be multilingual and global citizens began long ago when I was a child.
I grew up in a small town in Northwestern Pennsylvania in an English-speaking household.  My community was not very diverse, and there were very few opportunities to genuinely experience other languages and cultures.  During this time language learning was not as "in vogue" as it is now. I credit my mom with her persistence seeking out language lessons, immersion camps, and eventually international travel and exchange trips to expose myself and my siblings to the rest of the world. As a child, I did not appreciate enough the logistical and financial burden of finding German tutors, signing us up for language correspondence courses, or sending us to out-of-state camps or trips to Europe.  Thanks to my mom, however, I am now fluent in German and currently studying Spanish. My brother speaks German and Italian and lives with his family in Germany, and my two other sisters speak Spanish and Italian. All of us are not only fluent in at least one other language, but now have a broader perspective of the world, and our role in it!
As I raise my own children, I have many more resources within reach, between living in a diverse community, to virtual resources, as well as financial.  My husband and I made the decision to expose our children to Spanish at the age of 1, so they could achieve the full cognitive benefits of learning a language at such an early age.  As our children grow, we hope to eventually expose them to culture through travel and other authentic experiences. As a family, we concluded that the easiest route to language immersion at such young ages was through hiring Spanish-speaking caregivers in our home.  We have had 3 wonderful women love our children, and impart their love for their countries of origin upon our children. As a parent but also a language teacher, it has been fascinating to see the language acquisition occur directly in front of me, and become aware of my children's' capabilities!  I have to admit, my own language skills have also greatly improved!
Since we began this adventure, both children have proven to be quite proficient in listening skills and are able to understand nearly all of what their caregivers say.  They are also able to respond in Spanish, though sometimes with encouragement (they know their caregivers understand English, so they aren't always motivated to respond in Spanish).  I am excited to see them develop their language skills, but also feel pressure to continue their language exposure and acquisition, which gets more difficult as they enter the public-school system.  
Our oldest daughter began kindergarten 5 weeks ago. Unfortunately, her elementary school, while fantastic, (like most elementary schools), does not offer languages. Two other schools she could attend do offer Spanish a few times a week, but her proficiency is far beyond learning colors, numbers, and animals.  There is one private immersion school that would be a great fit for her abilities, but is out of reach financially. We are left pursuing her language skills as an extra-curricular. We do this through occasional babysitting by Spanish-speakers, TV-shows in Spanish, and playdates, but it isn't enough. While I know her language skills may "come back", it is still difficult to watch them recede, and I continue to look for opportunities.
This is my personal, and family's experience learning and valuing language learning, but I am frequently reminded of families who do not have the resources, motivation, or energy to pursue a second language, or even their native language!    As an ESL teacher, I frequently saw students become reluctant to speak Spanish with their parents, or their parents lament their lack of reading skills, proper grammar, pronunciation in their native language. I can't imagine how heartbreaking it must be to watch your own children lose their ability to speak with you fluently.  In addition, I feel it's such a shame for them to lose their ability to speak Spanish in their future as a potential job skill!
The many benefits of learning a second language have been research-proven over, and over, yet are still undervalued in the educational system.  As a country, we are light-years behind the rest of the world in terms of language abilities! As a parent and educator, I am committed, advocating for more language learning access for our youth in our community and schools.  I hope, with time, that my progressive and diverse community and public school system will see the merit in offering more world language offerings to its children, so that all children can benefit and become global citizens.