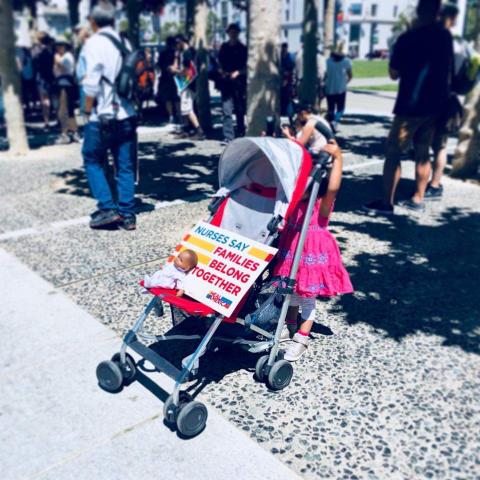 Raising a Little Activist
As the child of immigrants, I got to see the struggle firsthand. My parents immigrated to the U.S. from Mexico in 1966. They had only the clothes on their backs, a bit of hard-earned money, dreams, and a lot of determination. Against all odds they persevered and ultimately succeeded. Their plight as immigrants in this country fueled my passion for activism.
Strapped into a baby carrier, my daughter marched for women's rights and picketed with nurses for safe staffing. Quite literally, she learned to protest before she learned to walk. We participated in protest playdates at ICE, City Hall, and Nancy Pelosi's Congressional office, calling for a stop to immigrant family separations. She marched in support of DACA and in celebration of the legacy of MLK. 
We started reading children's books about activism to her early on, starting with "Feminist Baby" and "The Little Book of Little Activists." Still, each time we participated in a protest or march the same questions would arise. How can I facilitate the development of her own relationship with activism? How can I empower her to advocate for herself and others? How will she connect with the struggle, when she is so far removed from it? 
My answer came at a Mother's Day family separation protest we attended together. An immigrant mother shared her harrowing journey to the U.S. from Central America. I teared up, her story moving me to my very core. My daughter asked why I was crying. What followed was a short talk about my immigrant roots, privilege, and our role in advocating for separated families. There was a moment of silence. I wondered if I had shared too much, or too little, and just how much she had understood. Seconds later, she matter-of-factly said, "I never want to be separated from you. The niños should be with their families." She understood. And in that moment, a fierce little activist was born. I'd spent so much time worrying about the how, that I'd forgotten to trust in the power of connection and empathy. And most importantly, in her heart.
Watch out, world. She's listening, she's learning, she's generation Alpha.
These are a few of my daughter's favorite books on activism:
The Little Book of Little Activists
Kid Activists: True Tales of Childhood from Champions of Change