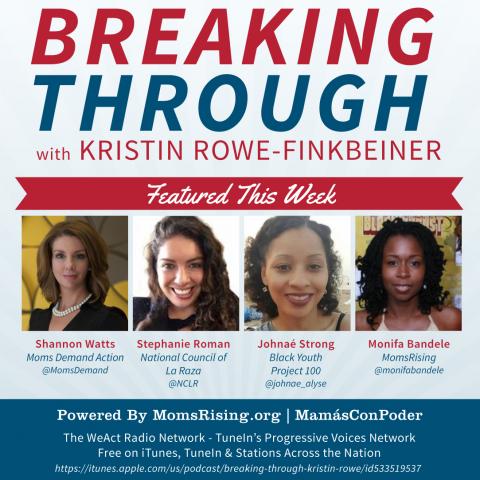 #Radio This Week: #Enough
For your podcast list: Breaking Through with me, Kristin Rowe-Finkbeiner! It's fun, feisty, and relevant for moms and families. Our weekly podcast is ‪#‎free‬ for all on iTunes: https://itunes.apple.com/us/podcast/moms-rising-radio/id533519537
ON THIS WEEK'S SHOW:
The San Bernardino shooting and public safety measures to protect people from gun violence;

what's at stake with working family tax credits (EITC & CTC);

Justice for #

LaquanMcDonald, addressing police brutality, and 

Chicago;

and celebrating good news on healthy food options for kids.
LISTEN: In the DC-area and on many stations across the nation, as well as Mondays at 4 pm ET on We Act Radio and anytime on TuneIn's Progressive Voices, and on iTunes.
*Thank you to radio gurus: Sarah Howard-Garoutte, Bradley Herring, Kymone Tecumseh Freeman, Alex Lawson, Jon Sinton!