#RADIO - Olympics Fever! Women, Girls, & Sports
The Olympics! The torch. The pageantry. The athletic accomplishments that are unimaginable to us mere mortals. This is a historic Olympics for women: The U.S. team included more female athletes than male for the first time ever. We've come a long way since Title Nine passed 40 years ago, now more than 200,000 women play college sports, compared with 16,000 in 1972.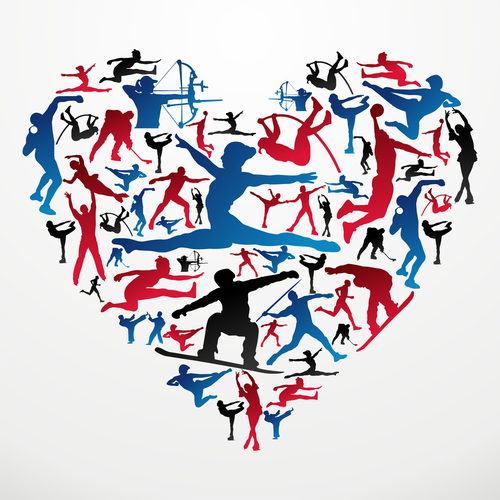 But we still have a ways to go.  By age fourteen, girls are dropping out of sports at twice the rate of boys.  And as women's sports have gained prestige, fewer female coaches are hired.  In fact, of the five sports where the U.S. is fielding a woman's team under a single head coach, only one-- soccer--has a female coach.
In this show we talk about the Olympics.  We explore the triumphs, the failures, and the benefits of sports for girls. And joining us in the conversation we have female athletes, we have Olympians, we have moms, we have medal winners, we have girls, and we have advocates. 
*Spectacular special guests include: Lisa Maatz with the American Association of University Women;  Sarah Francis, Campaign Director at MomsRising;  Nancy Hogshead-Makar, Olympian and the Senior Director of Advocacy at The Women's Sports Foundation; Rosalynn Sumners, Olympic figure skater; as well as Naima Bandele and Anna Finkbeiner, two junior high school athletes.
Scroll down to find some highlights from the Olympics Fever show, which I hope will inspire everyone to listen to the program in its entirety.  There was so much great content and conversation; it couldn't all fit in one blog post here! 
Show Highlights:
=== LISA MAATZ,

 American Association of University Women. 
"I love seeing the Olympics and seeing all the women there. I want them to run ads that say, "Brought to you by Title IX in its 40th year."  Of course, they haven't run those ads but I'm waiting patiently… But the other thing about Title IX of course is that it's not just about when girls play sports.  We know that that's always a much healthier path for girls and they're going to get a better start in life, much less likely to get pregnant or much more likely to go to college; but I think sometimes we overlook some of these other benefits.  Certainly if you know sports speak, sometimes it's easier around the boardroom table to get your way in, to start the conversation, to be part of the crowd."
===
 Sarah Francis, Campaign Director for MomsRising
"This year's Olympic medal is perfect for the younger set to make because it has on it all of those kind of modern lines. And so it's really easy for a kid to make and for him to say, 'Oh my gosh, this looks exactly like the real medal'."
"To make the medal, find any kind of craft clay.  We used Pluffy, which is a really light polymer clay.  It's nontoxic - don't worry. And you can buy just one of those packages.  One of those packages will make like three or four medals. So you roll it out.  I'd roll it out to like a quarter of an inch thick; not too thick, not too thin.  You can use a drinking glass or any kind of round shape to cut the circle of the medal but you don't want to cut the very top because you want to make that nice square that the 2012 medals have. And then, so you cut it out and have an adult or someone that's a little more skilled with a clay knife.  Or you can just use a butter knife.  Cut out the square top. Put a little line through it so when it bakes, you'll have a way to slide that ribbon right through.  And then let whosever's creating the medal go nuts with a butter knife, creating all sorts of interesting lines that looks exactly like the 2012 medal and then you can use like a pen cap or a marker cap to make the little Olympic rings on it as well.  And then you just bake it following the instructions and then pull it out and paint it any color you want."
===  Nancy Hogshead-Makar,
Olympian and the Senior Director of Advocacy for The Women's Sports Foundation. 
"I hope that what it brought back was the power of sport and the importance of sport; that is not just about the very elite athletes.  Those are excellent role models and it gives people something to aspire to in the matter of what it is they ultimately end up achieving, but we want a broad base support system that is able to capture the genetically normal.  We don't just want it to be for a select few."
"The video talks about how at the age of 14, girls drop out of sports at twice the rate that boys do, and on the video you see on a field girls hear ads that are targeted towards that age group - it's things like 20 ways to do your hair, and how to be flirtatious, and how to make him notice you.  And so half the girls walk off the field and they're suddenly wearing high heels and makeup and their hair is done. So the girls who are left on the field are kind of like you know, "What's going on here?"  So hopefully it captures this idea that we need to keep her in the game."
=== Rosalynn Sumners, Olympic figure skater
"By the time I was probably 11, even 12, I was on the ice from 5 a.m. and then I would take a quick little break in the middle of the day, go to school, which lasted 'til about ninth grade.  Then four years before the Olympics, when I knew I had a chance at the Olympics, then we figured out something with the state of Washington of how to let me still do my school work and graduate without going to school. Half the day was figures and then the other half was the free-style, which is the jumps and the training of the programs and the choreography and then you'd break up those different sessions with okay, this is how long I'm going to work on my spins and this is how long I'm going to work on my jumps and this is how many lessons I have and then I had some time just to, you know, train by myself and my coach was a real task master and she made us write goals."
=== Naima Bandele, 

Dancer, musician and junior high school Lacrosse player
"I think no matter how tired they get with the sport, they should keep playing if they really love it.  And if they don't love it, they should try another sport just to stay healthy. They should keep trying no matter how difficult the sport gets and practice whenever they have the chance."
=== Anna Finkbeiner,

 Math superstar, designer, artist and junior high school athlete
"Stay at your pace.  If you're doing a long run, you don't just start sprinting, you jog most of the run. Doing sports makes me feel healthier and it's easier to do stuff outside of school.   Once you start moving, it gets easier to do other things."
Image courtesy of Shutterstock.