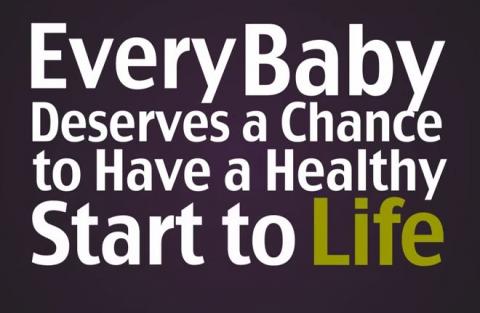 Racial Justice – and Lower C-Section Rates, Too
The intuitive, close connection that is possible with someone who looks 

like you, shares your experience, and understands your assumptions, is a 

powerful force for health and change.
I am a child of the sixties, and a Jew who takes seriously the prophetic challenge 
to pursue justice. But my connection to the struggle for racial justice has become 
more personal for me through my work in health care and in public health.
In the mid-1980's, I was a 32-year old postpartum nurse, and I was a 
breastfeeding mother. I worked in a teaching hospital in Chicago, where the 
postpartum unit had private rooms, semi-private rooms (2 beds), and a couple of  
"Medicaid rooms," larger spaces that contained 4 or 5 beds. Postpartum mothers 
in the Medicaid rooms were primarily women of color, and very few of them 
breastfed their babies. 
I was in love with the power of breastfeeding, in my own life and for the families I 
was caring for.
I was also a feminist, and believed that I had a connection with women 
everywhere. I had been trained as a nurse that if I had the right information, 
the right strategy, and cared enough about my patients, that they would take 
my advice. The implication was that if they didn't take my advice, they were not 
compliant, or didn't care about their own health.
I can see it as clearly as the day it happened. I was standing in the largest 

Medicaid room, with five African-American women who had just birthed 

their babies. I was trying my hardest to convince one of the women to 

try breastfeeding. I could see her face harden and her eyes shift away 

from me, and I could feel the sweat dripping down my sides. It felt as 

if there was an invisible wall between us. It didn't matter how hard I 

tried, or how I shared my own experience, or how much I tried to connect 

with her. I was a white, middle-class nurse with a husband and a job 

and a mortgage, and she could not see herself in my eyes. I was not the 

right messenger to convince her that she could breastfeed her baby, that 

she could be successful, that she would feel happy and proud for trying. 

I was not the right messenger to share with her the health benefits of 

breastfeeding. We were different, and that difference mattered.
This experience altered the course of my life. This woman showed me the limits 
of my role as a health professional in such an intimate area of health decision 
making. Difference matters. Our differences are complex and hard to navigate, 
and they also make us strong. Our conversation taught me respect for the 
power of race, ethnicity and difference in every interaction and slowly, my own 
limitations as a white health care provider began opening my eyes to the power of 
real peer-to-peer support.
HealthConnect One was founded on this principle – on the power of community 
health workers to support families during pregnancy, birth, breastfeeding, and 
early parenting. The intuitive, close connection that is possible with someone 
who looks like you, shares your experience, and understands your assumptions, is 
a powerful force for health and change.
Community health workers are absolutely the right messengers.
They are also incredibly effective ... and now we have proof!
This summer, HealthConnect One released
a new study
, analyzing the role 
community-based doulas play in high-risk communities across the U.S., and 
detailing the recommendations of a federally supported expert panel. The study 
finds that community-based doulas dramatically increase breastfeeding rates 
(87% at 6 weeks vs. 61% of a similar sample) and decrease c-section rates (24% 
vs. 30% of a similar sample) – by providing extended, intensive peer-to-peer 
support to families throughout pregnancy, during labor and birth, and in the 
early months of parenting – in communities that face high risks of negative birth 
and developmental outcomes. 
These incredible health outcomes are often achieved in tremendously difficult 
circumstances.
Yet despite the evidence, I continue to see how society, the health care system, 
and other health care professionals disrespect these effective providers and 
devalue them because of their race and ethnicity, their income levels, or their lack 
of formal education and certifications.
Difference is not the problem. 
The problem is discrimination, exclusion and oppression based on difference. 
This is what leads to wide disparities in health.
Community-based doulas decrease health disparities, and now we have the 
numbers and the experts to affirm this truth. By supporting moms peer-to-peer, 
face-to-face, and heart-to-heart, community-based doulas can give every baby a 
chance at a healthy start to life.