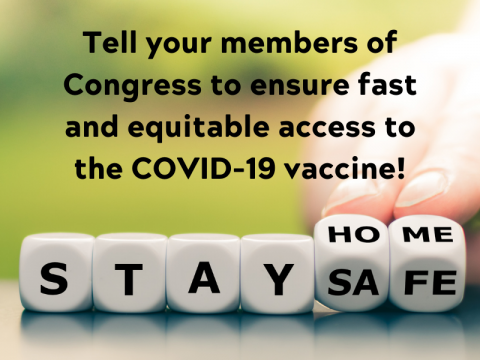 Quick signature to support Biden's vaccine plan!
FINALLY!
After over a year since the first COVID-19 case was diagnosed in the United States, and 50 different states taking 50 different approaches to addressing the virus, we finally have a national strategy for combating this deadly virus and getting us all vaccinated. Whew!
President Biden issued an executive order last week that will coordinate a nationwide effort to speed up production and distribution of vaccines, as well as foster coordination between the Federal government and state and local governments. It will also help to reduce disparities in COVID-19 response, care and treatment—including racial and ethnic disparities. Executive orders are a great start, but we also need Congress to do their part by taking immediate action to protect our families and communities by passing COVID-relief legislation ASAP.
*Quick signature: Tell your members of Congress to pass funding for a scaled-up distribution of the COVID-19 vaccine and include vital aid to state, local, territory, and tribal governments in their COVID-relief bill.
What's happening? As a nation, we are already struggling to ensure equitable access to the vaccine, especially for communities of color, who are being disproportionately impacted by the virus (and were already facing long standing health disparities before the pandemic). In the U.S., Black, Latino, Pacific Islanders, and Indigenous Americans all have a COVID-19 death rate that's double or more that of white and Asian Americans. At the same time, the number of vaccinations for communities of color is smaller than their share of cases, while the number of vaccinations for white people is larger than their share. This disparity in large part can be attributed to differences in access.
Many people who currently qualify for the vaccine are struggling to gain access to it due to a number of reasons: limited availability in their area, lack of internet service to make the appointment, lack of transportation to get to the facility, language barriers to access signup lists, or lack of time off from work to be able to receive the vaccine. (President Biden's proposed COVID plan provides for paid leave to get vaccinations, but Congress must pass it first.) In states all across the country, data is showing that your zip code may impact your access to the vaccine, where wealthier neighborhoods are unfairly getting their shots at a faster rate.
Sili in Florida said: My dad is 74, a cancer survivor and recovering from a quadruple bypass in November. He wants to be vaccinated but I cannot find any place across several counties that have appointments for seniors. I've gone on county sites, hospital sites and state sites to no avail. And still he considers himself lucky because I'm able to do all of this for him since he wouldn't be able to do this for himself. There has to be a better way to get the U.S. population vaccinated in a speedy and equitable way.
Sign on now! Tell your members of Congress to ensure fast and equitable access to the COVID-19 vaccine! 
With the patchwork of systems delivering the vaccine across the country, most of us are struggling to find out how and when we and our loved ones can get vaccinated.
A national investment must be made in a robust effort to achieve equitable distribution of vaccines, particularly in communities of color, which have faced significant medical discrimination and mistreatment throughout the pandemic, as well as throughout our nation's history. This includes ensuring resourced equitable access to medical treatment, accurate information from leaders from diverse communities, vaccines, and more.
Since there has been a patchwork approach so far, each state has been determining which groups are included in which phase of the roll out of the vaccine, and in many states there are some other critical groups of people who are not being prioritized. Our beloved child care workers must be included alongside other frontline essential workers for priority. We also need to ensure people with intellectual and developmental disabilities (who are 2-3 times more likely to die of COVID) and caregivers for medically fragile children are high priority as well. And immigrant communities need to be assured that getting a vaccine will not impact their immigration status.
Finally, people living and working in congregate settings are at higher risk for severe COVID-19, so we must ensure that people who are homeless, living in correctional facilities, or are agricultural workers like meat packers and migrant farm workers (who often work in close proximity) are prioritized. President Biden's National Strategy corrects this patchwork approach and centers those who are most at risk, which is why Congress must pass his vaccine plan as part of a comprehensive relief package now!
***Make sure to sign our letter now calling on Congress to quickly pass President Biden's COVID-19 vaccine plan as part of a comprehensive relief package!