Take Action!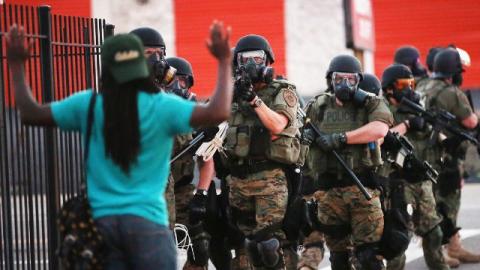 Quick signature to stand with moms against racial profiling
Last week, the Department of Justice (DOJ) decided not to bring Officer Darren Wilson to trial for racially profiling and killing Mike Brown, despite the findings of a separate investigation that Ferguson and St. Louis police routinely target, abuse, and unjustly persecute black and brown residents. 
It's unacceptable. A mother should never have to fear that her children could be killed or harmed at the hands of those sworn to protect them. But we know it happens every day. Tragically, Leslie McSpadden lost her son, teenager Michael Brown, and moms across the country are losing sons and daughters in our nation; yet the laws relating to bans on discriminatory policing and police accountability remain so weak that officers are rarely held accountable when lives are lost. 
Studies show that police misconduct in the U.S. rarely results in indictments. In the case of teenager Michael Brown's death, indicting Officer Darren Wilson, the man who fired the shot that killed Michael, would have meant that a public trial would happen in order to bring out all of the facts of the case. But due to an unreasonably high standard to prosecute civil rights cases and a lack of political leadership to hold law enforcement accountable, African American families are routinely denied justice. This is particularly awful given that a mother lost her son in a proven climate of systemic racial profiling. We need President Obama to use his executive power to address the deep-seated structural problems that put our families in danger and let violent and discriminatory police off the hook time and time again.
Discriminatory policing and police misconduct are happening nationwide. Will you email the White House directly and urge President Obama to do everything in his power to stop unjust killings by police, increase police accountability, and expand community control over policing nationwide.
What's going on? After Ferguson Police Officer Darren Wilson brutally killed teenager Michael Brown, MomsRising joined with the ColorOfChange community and allies to deliver more than 950,000 signatures to the White House demanding a federal indictment of Officer Wilson and a complete overhaul of the Ferguson and St. Louis police departments. Michael Brown's death shook the nation, exposing the daily indignity and terror of police violence targeting millions of families. Right now, law enforcement kills African Americans at nearly the same rate as the long ago Jim Crow lynchings. Further, police stop, ticket, arrest, and incarcerate African Americans and Latinos at disproportionate rates.
This is no small problem. The DOJ found that from 2011- 2013, Black people were only 67% of Ferguson residents, but 86% of police stops, 92% of searches by police, and 95% of those arrested for improper "manner of walking on the road." These racial profiling related police stops and arrests are happening even though white residents were the most likely to be found with contraband. Further, African American male teens are 21 times more likely to be killed by police than white ones.
A mother should never have to fear that her child could come to harm at the hands of those sworn to protect them. Join us in urging the DOJ and the Obama administration to help end discriminatory police violence.
There is no doubt we are at a different place as a nation than we were 6 months ago. The DOJ's findings on the racial discrimination and abuse of St. Louis and Ferguson law enforcement is a direct result of the growing new civil rights movement and those who are working tirelessly to secure an end to discriminatory policing. Across the country, people from all communities are rising up to create a country where black and brown lives are valued, police treat all communities with respect, and militarized policing isn't funded over education and social services.
In the past, presidents have used executive orders to implement much needed civil rights protections. And President Obama himself has passed a number of executive orders to address inhumane deportations that continue to unjustly rip immigrant families apart.  Now, it is more critical than ever that President Obama intervene and reform policing nationwide.
In the past 5 weeks, 5 people have been assaulted or killed by police:
One study found that a person of color is killed by police, vigilantes and security guards in our nation every 28 hours.
Join us in working to secure further structural changes to policing nationwide. Urge President Obama to sign an executive order today. Once you do, help increase our impact by asking your friends and family to do the same by posting this action link on Facebook and Twitter, as well as sharing this blogpost.
Together we are a powerful force for women and families.