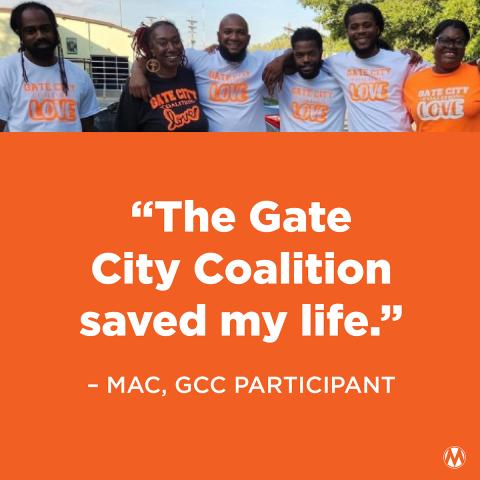 QUICK SIGNATURE to save a violence prevention program in Greensboro that works!
The epidemic of gun violence impacts all of our communities, including Greensboro. Fortunately, though, Greensboro has found a solution that works in the form of the Gate City Coalition (GCC), an evidence-based community violence intervention program. Despite the Gate City Coalition's success in this community, its funding is in danger of being eliminated. ACT NOW to save all of the funding, which is keeping people alive and promoting resilience in Greensboro!
Gate City Coalition's effective work has resulted in ZERO homicides in the Hickory Trails/Overland Heights corridor in 2023, and over 100 mediations! The program achieved this success by building close relationships with those that could be perpetrators or victims of gun violence and directly mediating conflicts before they turn deadly.
→ But now the funding for this life-saving program is at risk! Click here to tell the Greensboro City Council and Guilford County Commissioners that it is imperative that they continue funding this critical program that is proven to work.
We first learned about the transformative power of GCC a year ago, which is why we invited the GCC program manager to write a MomsRising blogpost in August 2022, called Community Violence Interruption Models work to reduce gun violence. In the blog Ingram writes:
"Community violence interruption programs are not the only answer, but they offer one solution that yields results. We are successful because we are able to have conversations with people in the community who trust us, who look like us, and who are open to us and our opinions. Having the respect of our community matters. One of our current violence interrupters started out as a participant. He is no longer committing violence; instead, he is in the process of stopping it at the root."
Tell the Greensboro City Council and Guilford County Commissioners that now is not the time to scale back their investment! Instead, let's continue a program that has been proven to work!
Community violence intervention programs like Gate City Prevention are designed to reduce gun violence in the most impacted neighborhoods through outreach by credible messengers who work with individuals at risk for involvement in gun violence. Just this year, GCC has hosted over 10 community events and connected more than 100 individuals to housing, employment, mental health & drug rehabilitation services, and other critical resources. Significantly, none of the participants has reoffended while enrolled in the program.
Moms know that when you find something that works, you keep doing it! The GCC has been proven to work and saves lives– please invest in them to sustain their life- saving work!
If funding for this program is discontinued, yet another program will be pulled from the Black community. Additionally, GCC will have to lay off staff; some of these staff were at risk of gun violence before and this program gave them and others hope of a better life. Sustaining funding for Gate City Coalition is cost-effective, saves lives, and will continue giving hope to the most impacted Greensboro communities. Together, let's keep this hope alive in the Greensboro community.
Much thanks goes to our friends at North Carolinians Against Gun Violence [1] for crafting this action! We appreciate all they do.