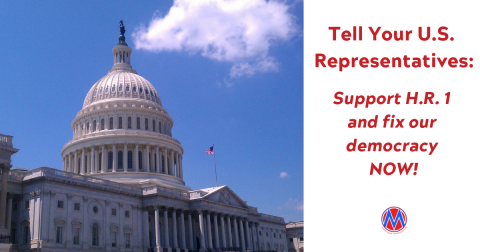 Quick Signature to Help Save Our Democracy!
Woot! This week we are celebrating the historic swearing in of more women and people of color than ever to the 116th Congress!! We are on a roll!
Who we elect has an impact on our lives, our community, and our country. So you know what's next on our to do list? (Aside from ending the President's very frustrating shut down of the government?)
Fixing our democracy to make sure that every vote counts in future elections!
Thankfully, in response to the appalling levels of voter suppression we saw in the last election, the newly sworn in U.S. House is introducing a sweeping democracy protection package as one of their first actions.
**Will you take a second to add your name to our petition to ask your U.S. Representative to make fixing our democracy a priority first step in 2019?
HR1 aims to fix our democracy by:
✅ Streamlining voter registration with automatic and same-day voter registration. 
✅ Committing to restore the Voting Rights Act that was hobbled by the Supreme Court in a 2013 ruling. 
✅ Ensuring nationwide early voting, including evening and weekend hours.
✅ Creating a small-donor matching system for citizen-funded Congressional races and revamping the matching system for presidential contests.
✅ Including strong measures to close loopholes in federal campaign disclosure rules, curbing foreign funds in U.S. elections, and fixing the Federal Election Commission (FEC).
✅ Curbing extreme partisan gerrymandering by requiring states to use independent redistricting commissions to draw congressional districts.
✅ Improving election security by replacing paperless voting machines and providing new grants for states to enhance election security measures.
✅ Strengthening ethics rules in the Executive Branch by requiring disclosure of presidential tax returns, tightening restrictions on congressional conflicts of interest, and requiring the Supreme Court of the United States to adopt a code of ethics.
All of the above items are needed…. yesterday. And so is your signature.
→ Quick signature! Ask your U.S. Representative to make fixing our democracy a priority in 2019 and we'll deliver your message next week!
There's no time to waste. We are tired of the corrupting power of dark money in our elections and voter suppression tactics that target people who some elected leaders would rather not vote. It's time to make sure our democracy really works for the people. It's time to make sure every vote is counted.
And we know that if we want Congress to take on hard issues like childcare, gun violence prevention, health care, equal pay, and paid family leave, or the dozens of other things we need them to fix, we need a democracy that works.
This is our chance. Let's make sure that every member of Congress knows that having a strong democracy is a priority for her or his constituents.
We need big fixes to our democracy ASAP. Sign on to tell your U.S. Representative to make fixing our democracy their priority as a first step in 2019.