Take Action!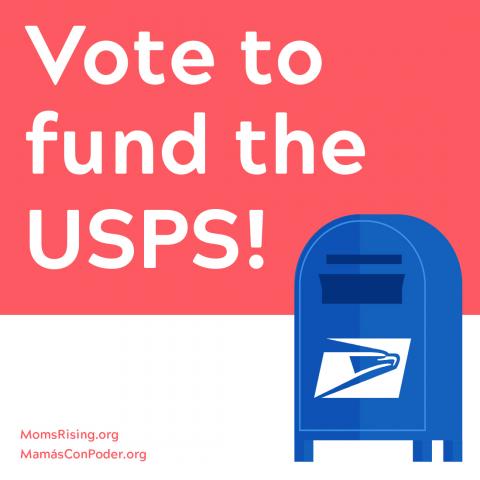 Quick signature to demand that Senate Republicans save the USPS!
The United States Postal Service (USPS) is under attack—and with it, our democracy, access to prescription medicine, and other essential mail during a pandemic. In fact, the failure of U.S. Senate Republicans to fund the USPS is threatening vote-by-mail programs and also is threatening the delivery of life-saving drugs, supplies, packages, bills, and more.
Rather than address this critical need, U.S. Senate Republicans remain on summer holiday.
TAKE ACTION: USPS needs at minimum $25 billion in emergency funding NOW in order to continue operations, and even more funding on top of that in order to handle the expected record surge of mail-in ballots this fall (so no one's mailed vote is uncounted due to delays).
Senate Majority Leader Mitch McConnell, so far, has not only refused to call the Senate back from summer recess to vote to give USPS emergency funding, but reports are that U.S. Senate Republicans are prepared to give only half the minimal emergency relief it needs—$10 billion—as part of a "skinny COVID" bill. The USPS needs $25 billion, not $10 billion.
Tell your U.S. Senator: #DoYourJob! The U.S. Senate needs to return to Washington, DC, NOW to vote YES on $25 billion in funding for the USPS, and to pass a robust, comprehensive COVID- relief package!
The USPS is a unicorn, that rare public institution enjoying higher than 90% public approval. That's because the USPS motto rings so true, that "neither snow nor rain nor heat nor gloom of night stays these couriers from the swift completion of their appointed rounds." U.S. mail has been so reliable that veterans trust the postal service with 80% of their prescriptions, and seniors account for more than half of the 1.2 billion prescriptions a year that USPS delivers. 
Furthermore, in this time of social distancing, families across the country, especially in rural areas (which are often poorly serviced by private carriers), rely on the postal service to bring critical mail and items they need. 
Don't let Senate Republicans risk breaking a national treasure, our postal service, by denying it the emergency funding it needs right now in a pandemic.
Tell the U.S. Senate to return to Washington, DC, NOW to vote YES on $25 billion in funding for the USPS and a robust, comprehensive COVID- relief package! #DoYourJob.
The postal service is on the verge of collapse due to antiquated and misguided policy: Its deficits are the result of the 2006 Postal Accountability and Enhancement Act, passed by Republicans, which not only cap annual increases in postage, but mandates that the USPS prepay its $72 billion retirement fund (enough for 75 years worth of benefits) – a burden that no other federal agency bears. 
Yes, this ridiculous 2006 Act must be repealed and replaced at some point, but in the current dumpster fire of events, immediate needs must come first: The USPS must be given emergency funding NOW in order to pay its bills and not have to suspend services. But that's not going to happen as long as U.S. Senators remain on their summer break.
Tell your U.S. Senator #DoYourJob—there's no time to lose! Tell them you want them to return to Washington, DC, NOW to vote YES on $25 billion in funding for the USPS and to pass a robust, comprehensive COVID-relief package.
Enough harm has been inflicted already by President Trump's hand-picked Postmaster General, Republican mega donor Louis DeJoy, who instituted wide-scale disruptive changes that discernibly slowed down mail delivery and damaged trust in the postal system. Due to immense public pressure, those changes have been suspended for the moment, but Congress must also take steps to repair that damage, including demanding a clear plan for how the USPS will replace discarded equipment, reverse the damage done, and restore the public's confidence.
Tell the U.S. Senate to return to Washington, D.C., and save the USPS now!
Please share this post with your family, friends, and everyone you know, and ask them to sign on to our message too! We will deliver our message and your signature to Congress in the next couple of days, ahead of the Congressional hearings on Friday and Monday.
P.S.– JOIN the national day of action this Saturday, August 22, at post offices across the country to call on Congress to save the post office and call on Postmaster General Louis DeJoy to resign. Click here to find an action near you.