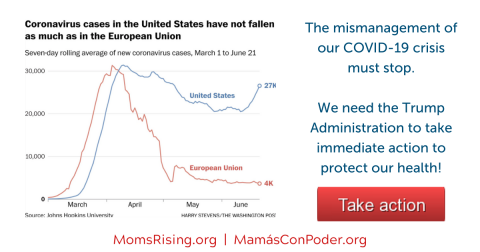 Quick signature: Tell Trump & Pence we need testing, masks, and the ACA!
Infuriating. Baffling. Outrageous.
I'm running out of words to describe the gross disregard the Trump Administration has had for human lives and the mind-boggling mismanagement of the COVID-19 crisis.
Just in the past week alone, in the middle of a pandemic—when millions are losing their health insurance and hundreds of thousands are experiencing a terrible health care crisis—President Trump has: cut funding for COVID-19 testing; refused to encourage people to wear masks to stop the spread of coronavirus, despite scientific research showing mask wearing is essential to slowing the pandemic; and filed a brief with the U.S. Supreme Court to strip health care coverage away from tens of millions of Americans, which will make the pandemic far worse. In addition, there is no caveat in his administration's filing for protecting coverage for the 131 million people with pre-existing conditions, including the new pre-existing condition of having had COVID-19.
Click to sign: Tell President Trump and Vice President Pence to protect our health! 
Why is taking this action urgently important? The data is in and the pandemic is having an outsized impact on women and moms, with women of color experiencing compounded harms due to structural racism. The state of affairs for moms right now is grim; 86 percent of women in the U.S. become moms by the time they are 44 years old; women held three in five of the jobs that have been lost due to the coronavirus pandemic; and women make up 73 percent of health care workers infected by coronavirus. We hold the majority of jobs deemed essential, including 77 percent of health care jobs, as well as the majority of critical retail positions, including grocery store employees. Women of color are overrepresented in essential worker positions and also in fatalities from COVID-19, which increases the harm caused by the pandemic in communities of color.
So we need solutions, and we need them fast. 
And, there are solutions in Trump's reach that he's ignored so far: It's time to raise our voices loud and clear. Specifically, in order to combat this pandemic, we absolutely need widespread testing because COVID-19 is both highly contagious and has a mortality rate much higher than the regular flu—and, it can be spread by people who don't even know they're infected. So tests are critical in helping to track down who has it in order to stop it from spreading further.
Additionally, we need the Trump Administration to encourage people to follow the Centers for Disease Control's (CDC) recommendation to wear face coverings in public settings. There is overwhelming evidence from multiple studies that show that wearing face coverings in all public settings (indoors and outdoors) is incredibly effective in slowing the spread of COVID-19. For this type of preventive measure to be successful, we need our elected leaders at all levels to encourage universal mask wearing (along with the recommended social distancing of at least 6 feet and handwashing)—starting at the top.
It's important to note that universal mask wearing not only is good for public and family health, a recent study also found that universal mask wearing would prevent a 5% GDP loss caused by additional lockdown measures.
Finally, we need to protect access to health care coverage, not dismantle it as the Trump administration has been doing. Research shows that people who develop symptoms are more likely to seek testing and treatment for COVID-19 if they have health insurance—another critical step for tracking and stopping the spread. There are already millions of uninsured people who face barriers to COVID-19 testing and treatment because they do not have a usual place to go to get medical care, nor can afford to seek treatment when they get sick. If the Affordable Care Act is invalidated by the U.S. Supreme Court—which the Trump Administration filed a brief in support of last week—it would rip health insurance away from tens of millions of people and strip protections for pre-existing conditions from all of us.
Given this colossal mismanagement of the COVID-19 crisis by the Trump administration, it's no wonder that the disease is still spiking in the U.S., while the European Union has seen marked decreases in infection. We urgently need to get the Trump administration to do better.
Don't forget to sign! We need a powerful, well-coordinated response to COVID-19 to save lives—sign now!