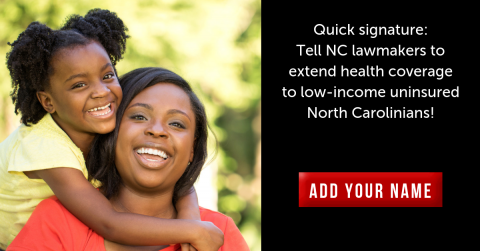 Quick signature: Tell NC Lawmakers to close the health coverage gap!
Across the nation and here in North Carolina, health care is consistently at the top of the list when it comes to issues voters care about. Regardless of political party, religion, or race/ethnicity, our families have a common desire to lead healthy lives, which starts with quality health insurance coverage. With mounting pressure to close the health care coverage gap in our state, lawmakers at our general assembly need to hear from you!
Quick signature: Tell NC lawmakers to extend health coverage to low-income uninsured North Carolinians!
Lawmakers depend on hearing from their constituents to know what matters most to North Carolina families. By speaking out in support of expanding Medicaid to close the coverage gap, you'll tell lawmakers that NC families expect them to lead on this issue.
Under the Affordable Care Act, the federal government set aside billions of dollars for our state to extend health care coverage to hard-working North Carolinians who live in poverty (or slightly above the poverty line). It seems like such a no brainer: Want to save lives and improve the health of our communities? Extend health insurance to those who cannot afford it!
This year marks the best chance we've had to expand Medicaid and cover hundreds of thousands low-income North Carolinians throughout the state. With the start of the legislative session, there's no time to waste and we need everyone to make their voices heard loud and clear.
Sign on now! Tell lawmakers in North Carolina to close the coverage gap and expand Medicaid!