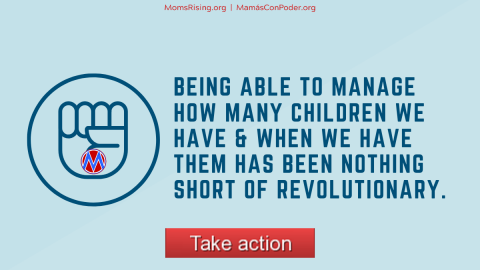 Quick Signature: Tell Congress to support the Women's Health Protection Act!
Last Friday, Missouri came one step closer to becoming the first state in the nation without an abortion clinic when its health department rejected a license renewal for the St. Louis Planned Parenthood location.
Across the country, women's reproductive rights are under attack — now more than ever. That's why we're asking members of Congress to STOP these plans to roll back our rights to reproductive health and freedom once and for all by passing the Women's Health Protection Act (S.1645 / H.R. 2975).
*Quick Signature: Tell lawmakers to support the Women's Health Protection Act NOW!
Most women who have abortions are already moms. Being able to manage how many children we have and when we have them has been nothing short of revolutionary — not just for women and mothers, but for our country as a whole. It has helped to narrow the gender pay gap, improved the health of women and their families, and led women toward access to increased economic and political power.
Make no mistake, this war on mothers and women is not about reducing abortions. In fact, if the goal of those who are passing such severely restrictive laws was to avoid abortion, then they'd be passing access to free birth control, which is proven to lower abortion rates, instead of setting lifetime imprisonment laws for doctors who help women in need. What's really happening is a direct attack on women and moms having bodily autonomy, economic freedom, and sovereignty in our lives.
This situation is not okay. Twenty-five million women — that's one in three women of reproductive age – now live in states in which abortion under any circumstances could be outlawed if the Supreme Court were to overturn Roe v. Wade. Make no mistake: this war on women, mothers, and our daughters particularly harms women in low-income families and communities of color, who face more barriers accessing reproductive health care.
Sign now! Add your name to our petition in support of the Women's Health Protection Act! 
Our petition reads:
As one of over a million members of MomsRising, I am writing to ask that you support the Women's Health Protection Act (WHPA)! Since 2011, hundreds of laws have been passed across the country to regulate and restrict abortion access.
This must stop.
Anyone who needs an abortion in the United States, deserves quality, affordable medical care, and a relationship with their health care provicer that is free from government intrusion. The WHPA protects these rights: Equal access to abortion, everywhere for everyone. Please support the WHPA!
Add your name! Sign on to support the Women's Health Protection Act!
Lawmakers should not be attacking women, who are half their constituents. Instead, they should be supporting us by passing paid family/medical leave like every other industrialized nation has done, access to health care including birth control, affordable childcare, equal pay, fair treatment of immigrant families, and an end to the mass incarceration that tears too many families apart — and not a rollback of our rights.
Note: We want to be perfectly clear, abortion is still legal in every state in the United States, including in Alabama, Georgia, Missouri, and Louisiana as these laws have not taken effect yet. If you or someone you know needs an abortion, you are perfectly within your legal right to receive one. If you need help accessing an abortion or paying for one, go to the National Network of Abortion Funds.