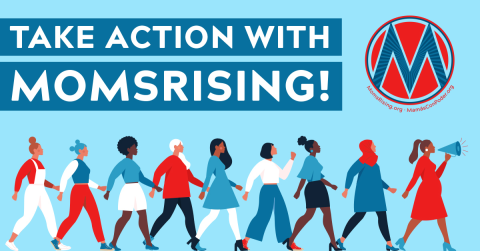 QUICK SIGNATURE: Tell Congress to REJECT the Politics Over Parents Bill
WHAT!? Instead of solutions to the very real crises families face each day, what we have right now is the Congressional Republican leadership launching yet another ATTACK. ON. PARENTS. And this time they're actually calling their attack a "Parents Bill of Rights" – and they're voting on it this week in the U.S. House. What, what, WHAT!?
Awful.
We can't let this go unchecked. Moms are rising to oppose a well-funded minority that does not speak for us, that is creating culture wars to divide us, and that is threatening our freedoms. We, the real majority, know the solutions that put families first and help our economy – and all of our elected leaders should be focused on those solutions.
* Tell the Republican leadership in Congress to stop advancing fake "Parents" bills that are creating culture wars and discord in our schools – and to get to work instead on what really matters to families including: paid family/medical leave, child care, aging and disability care, maternal health care, the expanded Child Tax Credit, and more!
What's going on? The badly misnamed 'Parents Bill of Rights' the House GOP plans to vote on this week is all wrong for America's moms, kids, families, and educators. Plainly put, it puts Politics OVER Parents. It is the legal basis for censorship, bullying and book bans, and for division based on race, sexual orientation, religious minorities, and gender identity, masquerading as a bill of rights. In states like Florida where versions of this bill and others have already become law, we've seen a tremendous amount of harmful impacts of these policies:
Diverse books like the biographies of Harriet Tubman and Celia Cruz removed from school classrooms in mass book bans;
Textbooks changed to erase Black history and remove important historical moments, including why Rosa Parks gave up her seat on the bus during the historic Montgomery Bus Boycott;
Teachers leaving the workforce in droves -- exacerbating teacher shortages at a time when Black and Latinx educators are already underrepresented in the teaching profession;
LGBTQ+ clubs and supports removed from schools;
Bans on sexual health education, including conversations about menstruation.
This is not the future we want for our kids!
America's moms want schools to be safe and inclusive and to value diversity; for parents to be respectful; and for educators to be able to be honest about their identities and allowed to teach our country's truths, good and bad, and the values that got us to where we are today. We want our children to learn about the history and obstacles faced, and overcome, by members of our Black, Brown, AAPI, Native American, immigrant, religious-minority, LGBTQIA+, and other communities. We want our students to be able to access unbiased health information.
We want all our youth, regardless of income, disability, race, ethnicity, religion, sexual orientation, and gender identity, to be safe and included in schools that prepare them to contribute to and succeed in our society. And we want a society that rejects 'us vs. them' and puts in place the caregiving and other supports that will allow all families to succeed. What this country's moms want from Congress is affordable child, elder and disability care; paid family and medical leave; fair pay; health care and medications we can afford; vastly improved maternal health care for all of us; the ability to make our own decisions about if, when, and how many children to have; and laws that will end the scourge of gun violence and keep our children, streets, schools and communities safe.
** Sign on! Take a moment now to sign on to tell the Republican leadership to stop their underhanded attack on parents, our children, and teachers – and instead focus on the real crises that families are facing like paid family and medical leave, child care, aging and disability care, maternal health care, the expanded Child Tax Credit, and more!
While we do not foresee that this bill will pass the Senate and become law, we know that it is important to stand up and speak out against these dangerous proposals that are gaining momentum both on a state and federal level. Thank you for taking a moment to sign-on to stand up against this harmful bill that is a wolf in sheep's clothing to help let leaders know that this is NOT the direction we want them to be going!!
The more signatures we get (including yours!), the faster we'll be able to let Republican leadership know that they are out of step with the majority of moms in America – and they need to stop creating culture wars and division in our schools and communities.