Take Action!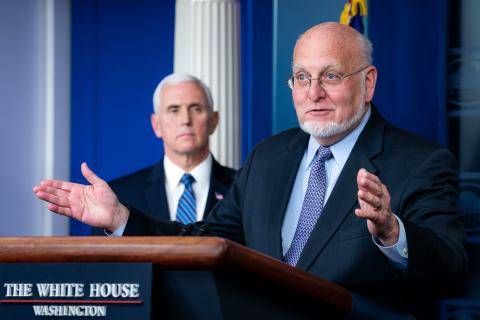 Quick signature: Tell Congress to protect the CDC amidst COVID-19
"Trump administration seeking to block funding for CDC, contact tracing and testing in new relief bill"
"Trump Administration Strips CDC of Control of Coronavirus Data" 
"White House blocks CDC director from testifying on schools reopening"
This past week's news headlines have made one thing clear: The Trump administration is trying to conceal its mismanaged response to the COVID-19 pandemic by blocking funding for testing and attacking the Centers for Disease Control (CDC) at every turn. Moms know from years of playing peek-a-boo that just because you try to hide something doesn't mean it actually disappears. This underhanded attempt to control our public health data and cut funding for the CDC (and testing!) must be stopped!
Quick signature: Tell the Trump administration and Congress to protect the CDC and fund testing and contact tracing.
The Trump administration's attacks on funding for testing and contract tracing, along with cutting funding of the CDC—our nation's top public health agency—are nothing short of frightening, especially in the midst of the COVID-19 pandemic. Protecting the CDC, an institution that has historically been apolitical and driven by science in the interest of protecting public health, is critical in this moment while our nation mourns the deaths of over 140,000 people due to this disease.
In addition, the CDC was accused of "undermining the president" by a top advisor to the Department of Health and Human Services because it put out a report about COVID-19 risks for pregnant women. This is unacceptable! Politics should not be influencing public health information that our communities rely on to stay safe.
The coronavirus pandemic has gotten so wildly out of control in the United States that many other countries have banned US travelers from visiting, including the European Union (EU). Where countries in the EU have experienced a sharp downward trend in their daily newly confirmed cases, the US is on a steep upward trajectory.
The US has only 4% of the world's population, but 25% of its COVID-19 cases. This is beyond tragic. We need Congress to act now to fund testing, contact tracing, and to protect the CDC, and ensure the public has access to public health data. We cannot allow the Trump administration to keep us in the dark about how we are doing in combating COVID-19. Publicly available information is critical for public health experts and parents to be able to understand the threat this disease poses to their families and communities.
Click to sign: Tell President Trump, Secretary Azar, and members of Congress to stop playing politics with our lives and to fund testing, contact tracing, and the CDC to continue its role of tracking and promoting public health.
The Trump administration has done a terrible job in combating COVID-19 and now they are trying to obscure this terrible situation by controlling public health data, cutting funding for the CDC, and preventing our nation's public health officials from speaking out. We must act NOW!