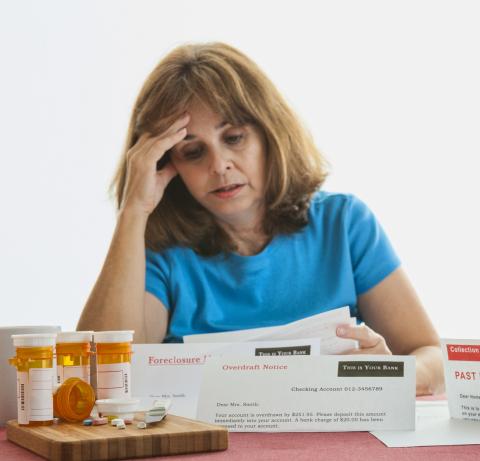 Quick signature! Tell Congress to lower drug prices now!
Prescription drug prices are continuing to rise and many families are struggling to afford life-saving prescriptions.
In a recent survey by Kaiser Family Foundation, about a quarter of Americans said they've had trouble paying for a prescription. A QUARTER! It doesn't have to be this way. There are solutions and our government can fix this. Thankfully, more and more people (across party lines) support government action to help cut the cost of medications — so now we have the momentum to make Congress take action!
*Quick signature: Tell Congress to take action to lower prescription drug prices.
What's the deal? Congress has created a flawed system that allows pharmaceutical companies to hold patent monopolies to pharmaceutical companies. In addition, unlike in most high-income countries, these monopolies are not counterbalanced by a strong coordinated purchasing strategy by the government to lower costs. As a result, pharmaceutical companies have developed a strategy of price gouging, shifting their focus to increasing profits, as there is no real government effort to rein in prescription drug prices.
As drug prices have risen, insurers are shifting costs to consumers and families are being impacted most. Across the country, families are facing poor health outcomes due to drug prices preventing them from being able to access and afford the medication they need to maintain their health. As of January of 2019, the prices on more than 250 prescription drugs increased by 6 percent or more.
As recommended by the Coalition for Fair Drug Prices, a top priority for action must be to address outrageous list prices that manufacturers charge, which drive costs throughout the system. Additional policies to bring costs and prices under control should ultimately encompass the entire supply chain, including wholesale distributors, Pharmacy Benefit Managers, insurers and other payers, and retail pharmacies.
Everyone should be able to access and afford the medication they need in order to live a healthy, productive life. We cannot stand silent as this continues.
*Sign on now! Tell Congress to take meaningful action to rein in prescription drug prices.
Kaiser Family Foundation found that 3 in 10 people across the country skip doses or refrain from filling prescriptions altogether due to high costs. The repercussions are horrendous, leading to deteriorating conditions for family members as they try to treat diabetes, high blood pressure, cholesterol, and other chronic conditions.
Lives are at stake. Prescription drug prices are consistently higher in the United States than in other countries, with Americans paying at least three times more for prescriptions. We cannot sit by and continue to let pharmaceutical companies put profits before the lives of our family members and friends. We need Congress to take action.
*Add your name: Sign our letter to Congress, asking them to take action to stop prescription drug price hikes.