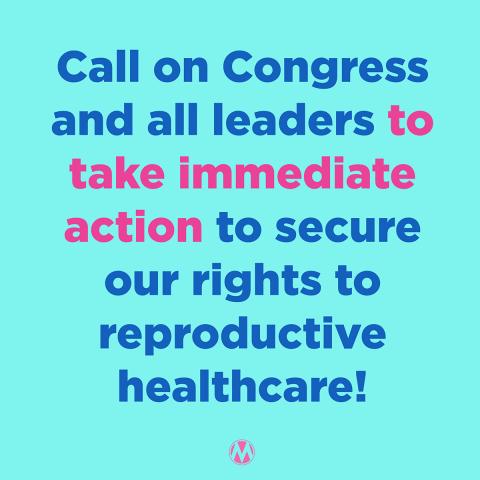 QUICK SIGNATURE: Tell Congress to ACT IMMEDIATELY to secure access to abortion
This is an emergency. I hope you saw our urgent message and action from late last week. I'm reaching out again because since the U.S. Supreme Court overturned Roe v. Wade, multiple states have already moved forward in their attempts to completely eradicate access to abortion care – going against, not only the majority of people in America which polls show support the right to abortion care, but also against our human right to bodily autonomy and right to choose what we want to do with our lives. 
This impacts families and moms more than most people realize since 6 in 10 people who have abortions are already mothers and parents. It's an emergency. Tell Congress and all leaders that we need them to step in, right now, and protect our reproductive rights! 
We need urgent, swift action from our leaders as 8 states have already completely banned abortion and in 60% of states, abortion is severely restricted, soon-to-be banned, or under serious threat. [1]  These bans will force many people, particularly people of color and marginalized groups, into unwanted pregnancies, financial hardships, increased hurdles to receiving proper and affordable medical treatment, along with other consequential burdens that have the potential to cost lives.  
Join us and call on Congress and all leaders in our country to stand up for what is right!
Be clear: This is not the end. And you are not alone. We will keep being loud about our reproductive freedom together. We will keep taking action. We will keep speaking out. Right now, it is imperative that we pressure Congress to step in, not tomorrow but RIGHT NOW, and protect our rights. 
Now is not the time to stand down. We need our elected leaders to stand up! 
In Solidarity,
Diarra, Kristin, Tina, and the whole MomsRising.org & MamásConPoder Team
P.S. If you have a story or experience to share about abortion care and why access to this right is important, please share here so we can educate leaders and the media about what's really going on. Your stories are so powerful that we have two ways you can share (and there's even a option to share anonymously):
Share your story by typing in a few words or paragraphs: https://action.momsrising.org/survey/AbortionStories
Or easily record a short video on your phone or computer using our Soapboxx video platform and tell us why reproductive healthcare is important to you: https://momsrising.soapboxx.us/prompt-single/rj
P.P.S. If you want to contribute to local abortion funds, here is a link: https://secure.actblue.com/donate/supportabortionfunds
References:
[1] "Tracking where abortion laws stand in every state"