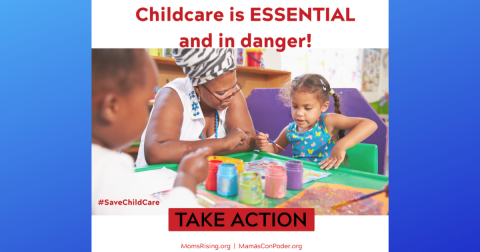 Quick signature for the Child Care is Essential Act
"My childcare center closed its doors and I'm heartbroken. Our childcare provider has been part of our life for 7 years. We don't know what we are going to do. Finding a new childcare provider is no easy feat. The price has to work, the location, the hours...there are too many unknowns now, and I think, unfortunately, that the best thing to do for our family is to scale work back until we can figure out if it is safe to send our children to childcare during the pandemic."
We are hearing from moms like Diana daily about the struggle with childcare right now. Whether it's juggling work and caregiving, closing childcare programs, or risking family members (like grandparents) in the middle of a pandemic to get much needed childcare relief...
It's why we need Congress to act NOW to save childcare!
*CLICK HERE to sign on to urge members of Congress to Child Care Is Essential Act — a bill that invests in childcare to save programs and support a healthy economic recovery for families.
Families across the country were already struggling to find and access childcare before the pandemic, but things are about to get harder if we don't act soon. The size and scope of the impact of this public health crisis on the childcare sector is profound and growing, with families with young children, including infants and toddlers, struggling the most. Without significant investments, we are on track to lose as much as half of our childcare programs. Many providers are already permanently closing their programs, unable to sustain operations with lowered enrollment. And recent data shows that the childcare industry has lost 326,000 workers since this last February — that's 31% of all jobs across the sector NATIONWIDE!
That's the bad news.
The good news is that there is help on the table right now - our members of Congress just need to act!
The Child Care Is Essential Act will keep childcare providers open (both family childcare and center-based care) by granting them access to a $50 billion Child Care Stabilization Fund to cover expenses like payroll and rent, regardless of whether they are open or closed and the number of children enrolled. Grants also provide much needed tuition and copayment relief to families. 
More than ever I'm grateful for the loving care my child normally receives while we work. Parenting and supporting our family already felt like a juggling act, but now it just feels like balls are raining down from the sky and we can't keep up.
We have to do something. And as many childcare programs are forced to close, availability for families across the country will become even more limited, forcing parents to make impossible choices.
Your voice is needed! Can you sign on to send a quick message to your lawmakers right now and urge them to co-sponsor the Child Care is Essential Act?
It's more important than ever that we speak up. Too often, people think of childcare as a "personal issue" - as in our own problem to solve. It's not. This crisis has shown more clearly than ever what we already knew, that we cannot continue to expect families and providers to bear the responsibility of childcare on their shoulders alone.
****We hope you'll keep speaking up by also joining us for a rally this Friday to #SaveChildCare! from 4:00 PM-5:00PM EDT! RSVP here. The National Women's Law Center and MomsRising are hosting a rally at home that will bring together families, childcare providers, and other folks from across the country to share their stories, show support and appreciation for caregiving, and call for greater investment in this sector that means so much to our communities.
It's time for Congress to take action on childcare and, together, we can raise our voices to make sure they do!