Take Action!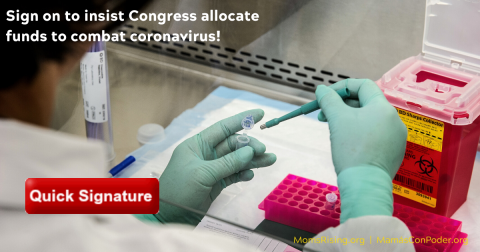 QUICK SIGNATURE for coronavirus testing kits!
With the coronavirus (COVID-19) already starting to spread in the United States, it is time for our federal government to take action and release funds ASAP to combat the virus and protect our families and economy.
***SIGN OUR LETTER NOW calling on the U.S. Congress and President Trump to pass and allocate emergency funds to combat the coronavirus ASAP.
Just today, Members of Congress reached a bi-partisan agreement on a $8.3 billion emergency funding bill to help support efforts to combat the coronavirus. This money will go towards the creation and dissemination of a vaccine, significantly increase the number of testing kits to diagnose the virus, preparing states, cities, and localities to combat the virus (including reimbursements for the costs incurred while assisting the federal response to the coronavirus outbreak), interest-free loans for small businesses impacted by the outbreak, assistance to the science and medical community, and guaranteeing that regardless of income, people can receive the medical services they need.
It's important that Congress vote this week and this money get released ASAP so we can start tackling this issue head on! Let's take just the testing kits to diagnose coronavirus. The rollout of the kits was incredibly slow and chaotic, meaning that states like Washington state that is seeing increased cases of coronavirus have been unable to test all the cases that need to be tested. This means it's extraordinarily hard for public health experts to get a handle on the situation or for people to get the treatment they need. Medical officials need to scale up the number of tests available to sick patients and the labs that process the results need support — and that all takes federal dollars!
It's also important that this money is new money—not taken from existing health programs that already lift up our families—and that there are guardrails around the funds so the Trump Administration, who have been known to transfer congressionally allocated money to fund their own backwards priorities like Trump's border wall, can only use the money to fight the coronavirus. 
***Take action now and sign our letter calling on Congress to allocate the funds needed to combat the coronavirus ASAP!
Thirty-two million workers in our country – including 81% of those in the food service industry – don't have any paid sick days, a critical public health protection. Experts worry that this will only accelerate the outbreak in the United States, so we can't wait for months for this money to become available. During the Zika outbreak it took eight months for Congress to fulfill the emergency funding request asked for by the Obama Administration, and this was after thousands of people in the U.S. tested positive for the virus.
This is about being prepared and having the resources we need to protect healthcare workers, our families, and our economy if the coronavirus continues to spread.
This funding has bi-partisan support! Now we just need YOU to help us get it across the finish line as nothing becomes a priority unless our representatives are hearing from their constituents to make it a priority.
***SIGN OUR LETTER NOW and we'll deliver it to the U.S. Congress tomorrow morning!
We know that there is a lot of concern out there about what is going on. We will be working over the coming weeks to not only make sure we have adequate funding in place to address the coronavirus, but also to make sure that we have the public health infrastructure– such as access to health care for everyone who needs it and paid sick days– that we need to adequately address this public health threat. But one thing we know for sure is it is going to take all of us coming together to make sure our families remain healthy in the face of the coronavirus. So after you sign our letter make sure to forward this email to your friends and family and post our action link to Facebook.
Thank you so much for speaking out on this important issue!
P.S. For information about how to prevent the spread of the coronavirus, go to this CDC website.
[1] Politico. "Congress strikes a deal on bipartisan $8.3B coronavirus package."
[2] The New York Times. "As Coronavirus Numbers Rise, C.D.C. Testing Comes Under Fire."
[3] The Hill. "Pelosi, Schumer insist on guardrails for coronavirus funds."
[4] National Partnership for Women and Families. "Paid Sick Days Improve Our Public Health."
[5] NBC News. "Congress Finally Passes Zika Funding Bill."  
[6] NPR. "Congress Nears Bipartisan Funding Plan to Address Growing Coronavirus Threat."