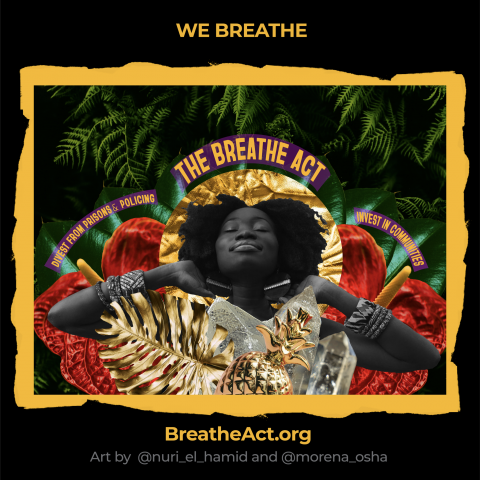 QUICK SIGNATURE: Divest in Policing, Invest in the People
Content warning: We discuss the police violence against Breonna Taylor, George Floyd, Tony McDade, Rayshard Brooks, Jacob Blake, Trayford Pellerin, Cornerlius Fredericks, Layleen Xtravaganza Polanco, Antonio Valenzuela, and Muhammad Muyamin below. 
MomsRising stands with the Movement for Black Lives, a coalition of over 150 Black-led organizations that have come together today to launch the BREATHE Act. This visionary bill divests our taxpayer dollars from mass incarceration and discriminatory policing and invests in a new vision of public safety—a vision that answers the call to defund the police and allows all communities to finally BREATHE free.
Why BREATHE? Why now?! 
On March 13, 2020, 26-year-old Breonna Taylor was shot eight times in the comfort of her own bed by police officers who terrorized and raided her home with the now illegalized, "no-knock" warrant. [1]
On May 25, 2020, George Floyd was arrested, pinned to the ground, and strangled to death by a police officer after being accused of using a counterfeit $20 bill. [2] 
Two days later, Tony McDade, a Black transman, was shot to death by Tallahassee police officers. [3]
Less than three weeks after the killings of George Floyd and Tony McDade, Rayshard Brookswas murdered on June 12, 2020 for sleeping in his own car at a Wendy's parking lot. [4]
On August 23, 2020, 29-year-old Jacob Blake was shot seven times in his back in front of his children, who were sitting in his car, after splitting up a fight in his own neighborhood. [5]
In that same weekend, Trayford Pellerin was shot eleven times and killed by Louisiana State Police. [6]
Cornelius Fredericks went into cardiac arrest and died while staff members laid across his torso in efforts to restrain him at a residential treatment facility for children ages 12-18 who have been placed in the foster care system in Michigan. He was 16-years-old. [7]
Layleen Polanco, a transgender woman of color, died from an epilectic seizure in Rikers after being wrongly placed and violently terrorized in solitary confinement. [8]
Antonio Valenzuela was choked to death by a New Mexico police officer who was caught saying he'll 'choke you out' on video. [9]
Muhammad Muhaymin, who struggled with mental illness and intermittent homelessness, was choked to death in the custody of Phoenix police for trying to use a public restroom accompanied by his service dog. The officers that killed him are still on the force. [10]
According to the Mapping Police Violence organization, there have only been 12 days in 2020 where police did not kill someone—TWELVE DAYS—and Black people make up 28% of those killed by police in 2020 despite being only 13% of the population. [11]
In recent years: Attiana Jefferson, Elijah McClain, Stephon Clark, Mike Brown, Eric Garner, Sandra Bland, Philando Castile... The list goes on.
Beaten. Shot. Tasered. Pepper sprayed. Choked and strangled. When will Black and Brown people have a chance to BREATHE?
WHAT IS THE BREATHE ACT?
IMAGINE: Schools free of police and full of trained counselors and restorative-justice programs, where all our children are kept safe and their needs are met. 
IMAGINE: Easy access to trained, trauma-informed interventionists who can be called on in domestic-violence situations and who are equipped to facilitate long-term safety, healing, and prevention. 
IMAGINE: 911 operators dispatching unarmed mental-health experts instead of police in situations involving behavioral health crises, and callers being allowed to request responders that connect to the gender identity of the person in crisis.
The BREATHE Act offers a radical reimagining of public safety, community care, and how we spend money as a society. We bring 4 simple ideas to the table:
Divest federal resources from incarceration and policing.
Invest in new, non-punitive, non-carceral approaches to community safety that lead states to shrink their criminal-legal systems and center the protection of Black lives—including Black mothers, Black trans people, and Black women.
Allocate new money to build healthy, sustainable, and equitable communities.
Hold political leaders to their promises and enhance the self-determination of all Black communities. [12]
COVID-19 exposed our infrastructures (or lack thereof) in the worst of ways. When our communities needed medical assistance, we were sent police officers. When we needed resources for food, we were sent police officers. When people could no longer afford to pay rent, they were policed instead. Our communities need easily accessible resources and services, not over-policing during a health pandemic. We need YOU to cosponsor the BREATHE Act right now. This isn't just for some of us, this is for all of us. 
The BREATHE Act will ensure that our political leaders invests in our communities through education, housing, healthcare, mental health services, and address the needs of the people living in low-income communities including but not limited to: youth, elders, immigrants, healthcare workers and other essential workers, people living without shelter, public housing residents, people with disabilities, LGBTQ+ and gender nonconforming people, women, informal economy workers (including street vendors, sex workers, canners and others), and the many Americans who have or may become newly unemployed or homeless as a result of the COVID-19 pandemic period. [13]
Placing police officers in public schools and our communities doesn't make them any safer. Oftentimes, as we've seen in the cases mentioned above and those not named who fell victim to state police department violent and terroristic practices, when police officers abuse their authority in our communities, we are left to feel vulnerable, unsafe, and/or deceased. Take action: Sign on and cosponsor the BREATHE Act!
With gratitude,
Diarra, Monifa, and the entire MomsRising.org team of Amber, Anita, Aryan, Beatriz, Beth, Casey, Christina, Claudia, Diana, Donna, dream, Elyssa, Felicia, Gloria, Hanna, Jessica, Jordan, Joy, Julia, Karen, Keisha, Kelle, Kristin, Linda, Lisa, Lucerecer, Maggie, Marysol, Nadia, Nancy, Nate, Nina, Rocío, Rosie, Ruby, Ruth, Sara, Shanette, Sheila, Sili, Sue Anne, Tasmiha, Taylor, Tina, Tola, and Xochitl
P.S. We'd like to give you a special invitation to join us for BREATHE Day today (9/29) hosted by the Movement for Black Lives! Hear from artists, movement leaders, community activists, and more as we all come together to demand Congress to rise up and meet our demands. Click this link to RSVP. 
 Link* https://action.momsrising.org/go/67928?t=18&akid=14371%2E2414301%2Eo1zDVx 
References:
[1] What We Know About Breonna Taylor's Case and Death
[2] How George Floyd Was Killed in Police Custody
[3] Black transgender man fatally shot by Florida police
[4] What We Know About the Death of Rayshard Brooks
[5] Kenosha officer claims he thought Jacob Blake was trying to abduct child
[6] Louisiana officials are investigating the police shooting of a 31-year-old Black man
[7] 3 staff members charged after teen's restraint death in Michigan have been released on bond 
[8] Activists Demand Justice And Cash Bail Reform For Layleen Polanco A Year After Her Death In Solitary
[9] Officer on video saying he'll 'choke you out' before man dies is charged with manslaughter
[10] Bodycam footage from Phoenix arrest reveals new details about Black man's death in custody
[12] The Breathe Act
[13] The Path Forward: How to Defund the NYPD, Invest in Communities & Make New York Safer