Quick Signature!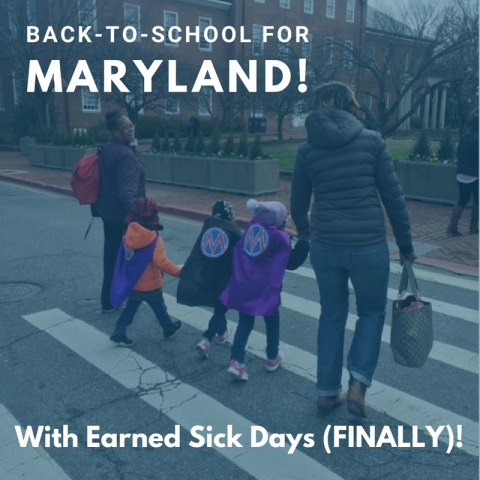 QUICK SIGNATURE ➡️ Protect Maryland Earned Sick Days!
The pencils are purchased and lunch boxes are ready to be packed! It's back-to-school time in Maryland!
This year, kids and families across Maryland are returning to school with something extra exciting: EARNED SICK DAYS!!! That's right, this is the first back-to-school season since we passed the Maryland Healthy Working Families Act!
But we can't rest easy yet! We know there is already backroom chatter about weakening this important law and we need to make sure our lawmakers in Annapolis know we are watching and we expect them to ensure this law is fully implemented and enforced. Add your name now!
→ Urge your Maryland lawmakers to PROTECT the new earned sick days law and ensure its proper implementation!
Right after Maryland's earned sick days law was passed, some lawmakers moved quickly to attempt to amend and weaken it. But we fought back then — and won! — and we'll fight back again if we need to!
The timing is urgent. Parents across the state are in back-to-school mode right now, and soon a lot of newly elected legislators will be in back-to-Annapolis mode. We need to make sure they know right out of the gate that we support the Maryland Healthy Working Families Act and want it to be implemented with strong protections!
CLICK HERE to tell Maryland lawmakers — both new and seasoned — that you support the Maryland Healthy Working Families Act and want it to be protected!
It's been a long journey to get here. In 2017, the Maryland General Assembly passed the Healthy Working Families Act with a veto-proof majority. However, this victory was short-lived because Governor Larry Hogan vetoed the act. In 2018, the Maryland General Assembly voted again to pass the Act — overriding the governor's veto — and delivering on its promise of allowing Maryland workers to earn and use sick and safe leave.
Over the last five years, MomsRising members like you have sent thousands of messages, shared powerful stories, made hundreds of calls, written letters to the editor, gone to Annapolis, and met with legislators there and back home. Together, and along with our partners in the Working Matters coalition, we've poured our all into this effort because we know how important it is for working families to be able to earn paid sick days.
Families like Donna's from Severn, Maryland, who shared:
"I once had to bring my sick child to work, and have her sleep on chairs in the nurses' report room because she couldn't go to daycare, and my backup provider was out of town. I cried all the way home at the end of my shift, and vowed I would never do that to my child again, even if I was at risk of getting fired, and struggling financially."
Tell the Maryland General Assembly to PROTECT and implement earned sick days for families like Donna's.
Bringing your sick kid to work shouldn't be on the table as a solution this flu season. Let's keep it that way!
Together, we're a powerful force for women & families in Maryland!