Take Action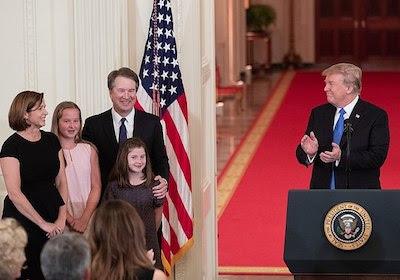 Quick Signature—Say NO to Kavanaugh!
Right now, the Trump Administration and Republicans in the U.S. Senate are hoping you're too distracted to notice their attempt at an extreme political takeover of the Supreme Court of the United States.
If confirmed, Judge Brett Kavanaugh, Trump's pick to replace Justice Anthony Kennedy on the Supreme Court, will solidify Trump's anti-healthcare, anti-worker, anti-immigrant, anti-choice, and pro-gun political agenda for generations to come. But we CAN STOP this nomination if we work hard and work together. In fact, current polling shows that Kavanaugh is one of the most unpopular Supreme Court nominees in recent history.
A Kavanaugh confirmation is not a done deal.
**Quick signature! Tell your U.S. Senators to VOTE NO on the nomination of Judge Brett Kavanaugh to the Supreme Court of the United States:  https://action.momsrising.org/sign/scotus_kavanaugh/?source=blog
What's at stake for families? A lot. Kavanaugh's record speaks for itself.
We need to do everything we can to stop Judge Kavanaugh's confirmation! Sign on now to tell your U.S. Senators to VOTE NO!
There's so much at stake with this nomination and the U.S. Senate has a responsibility to protect ALL of its constituents and our rights. Not getting health coverage due to having a pre-existing condition; not having access to birth control or reproductive choice; loose gun laws; and no accountability for the executive branch… this CANNOT become our new normal!
We must speak out and make our voices heard against Kavanaugh as Trump's pick for the Supreme Court. His lifetime appointment could undermine so much progress and have a disastrous impact on our health care, reproductive rights, and civil rights for generations to come. All of us must make our voices heard.
We need YOU to speak out for our right to access quality health care—including reproductive health care, immigrant rights, workers rights, civil rights, and to be safe from gun violence. Sign on now!