QUICK & POWERFUL: #5Actions for the Week of 9/27
It's been another super-charged week, and we hope you have some time to unplug this weekend. Before you do: Please take a moment to be sure you've signed these quick and urgent top actions, below. This week we're talking about protecting our elections, surprise medical bills, registering to vote, and more. Be sure to scroll down for photos of our work on the ground in Detroit and Pennsylvania, too. As always, please take a moment to share this list with family and friends. Thank you, and here are our top #5Actions! => 
1. Are You Registered To Vote? Check here…
BACKGROUND: This week was National Voter Registration Day, an important day to celebrate democracy by taking a few moments to register to vote or to check your voter registration! You can register to vote -- or double check your voter registration status -- by using MomsRising's Voter Registration page. And doing it right now ensures you make the voter registration deadline in your state! Each and every vote you cast is important and is needed. Making sure our democracy delivers on freedom and justice for everyone depends on as many eligible voters as possible voting! This means participating in elections big and small, from electing your local school board members all the way up to electing the President of the United States. Check now. When we're all voters, we all win.
2. Quick Signature: Tell Congress to Ban Surprise Medical Bills!
BACKGROUND: For the first time ever, Congress has an opportunity to pass bipartisan legislation that will ban surprise medical bills, and would protect patients while reducing health care costs and premiums. That's right—bipartisan legislation that would have a huge positive impact for families across the country is within reach of passage! **But dark money from provider groups is pouring into ad campaigns to stop it, so we need everyone to speak out to support this bipartisan legislation. When you click this link, if we have your info we'll automatically sign you onto this important petition telling Congress to pass legislation banning surprise medical bills!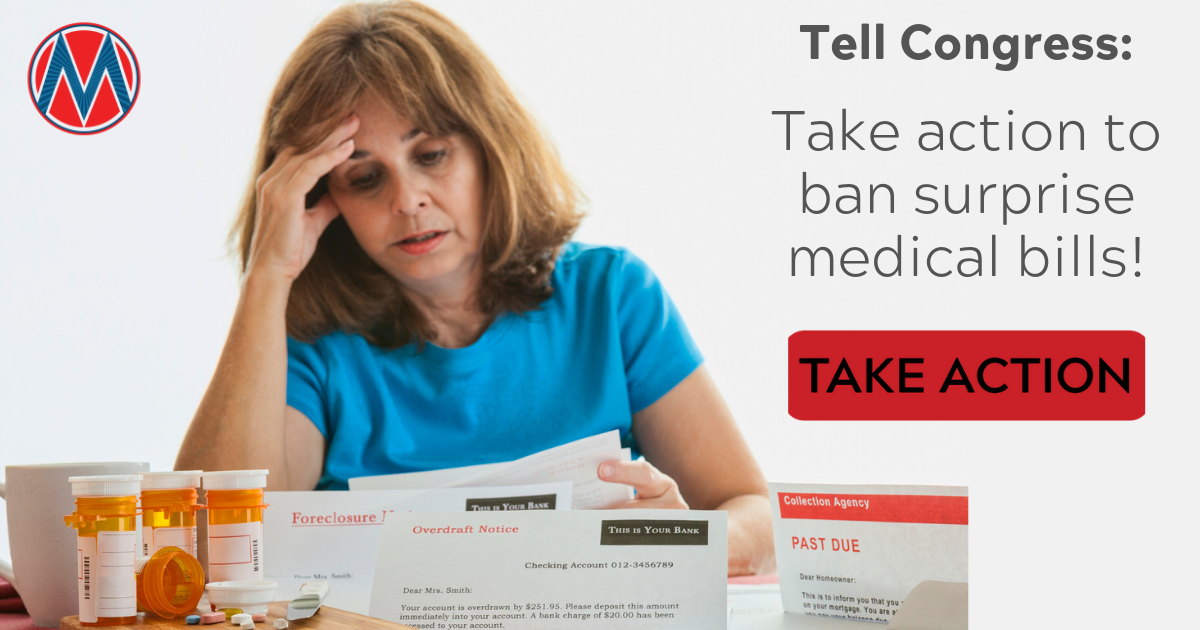 3. Write a Letter to the Editor to Speak Out to #SecureOurVote!
BACKGROUND: Now more than ever, our Senators need to know that we demand immediate action to secure our vote ahead of upcoming elections. Join us in writing a letter to the editor speaking out to secure our elections! #SecureOurVote
4. Donate & Get a Proud MomsRising Voter Sticker!
BACKGROUND: Your contribution is needed TODAY to help MomsRising reach voters in under-represented communities through mom-to-mom postcards, phone banking, texting, voting parties, and more. Contribute TODAY and we'll send you this special "Proud MomsRising Voter" sticker. These stickers are perfect for a car, water bottle, notebook, laptop — wherever you want to show your MomsRising Voter pride! Thank you for your generosity for women and families.
5. Watch and Share our Facebook Live Town Hall with Senator Sherrod Brown!
BACKGROUND: Did you miss our fantastic conversation about Earned Income Tax Credits with Senator Brown and MomsRising member Katie last week? Never fear. Here's a recording! Take a moment to check it out.
INSPIRATION OF THE WEEK!
MomsRising was proud to cosponsor the Midwest Grassroots Assembly for Child Care and Early Education in Detroit this week! We also delivered your over 20,000 signatures asking Pennsylvania Governor Wolf shut down the Berks Family Detention Center at a rally in Harrisburg, PA. Thank you to all who join us in speaking up for early learning and immigrants!