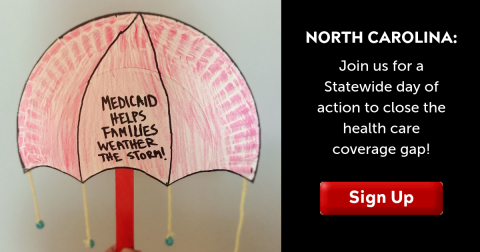 Quick Action: Statewide day of action to expand Medicaid!
Medicaid helps families weather the storm during times of need—whether it be during a health care crisis or a time of financial hardship.
But in North Carolina, our lawmakers have yet to make this critical and often life-saving program available to about half a million low-income uninsured adults. On April 16th, MomsRising is teaming up with the Health Action NC coalition for a powerful statewide day of action to tell lawmakers to close the health care gap and expand Medicaid.
*Sign up to participate and take action on April 16th to tell lawmakers it's time to expand Medicaid to low-income uninsured adults!
What is a day of action? When we all speak out together, we show our lawmakers that the people of North Carolina support expanding access to health care for low-income uninsured adults, making a big impact. On April 16th, we'll send you a suite of actions you can take from home to join your voice with thousands of other advocates across the state, speaking out to close the health care coverage gap.
And for those who live near Raleigh, we'll also include information on how to help with our delivery at the General Assembly. We're delivering stories from people stuck in the health care coverage gap, fact sheets, and child-made umbrella crafts to remind lawmakers that "Medicaid helps families weather the storm." (If you live near Raleigh and want to join us, you're welcome to, but don't worry if you can't make it! We're making it easy to take action from home, wherever you live in North Carolina!)
RSVP to participate on April 16th during our statewide day of action to close the health coverage gap!
Across the nation and here in North Carolina, health care is consistently at the top of the list when it comes to issues voters care about. Regardless of political party, religion, or race/ethnicity, our families have a common desire to lead healthy lives, which starts with quality health insurance coverage.
Under the Affordable Care Act, the federal government set aside billions of dollars for our state to extend health care coverage to hard-working North Carolinians who live in poverty (or slightly above the poverty line). It seems like such a no brainer: Want to save lives and improve the health of our communities? Extend health insurance to those who cannot afford it!
Health coverage for about half a million low-income North Carolinians is hanging in the balance, so it's never been more important for us to speak out on the positive impact that expansion would have.
Sign up! Let us know you'll make your voice heard on April 16th for our statewide day of action.
We all have a stake in making health coverage more accessible in North Carolina! Most of the North Carolinians who would be Medicaid-eligible if our state were to expand the program are adults who are employed and work in retail, food preparation, hospitality, service industries, and agriculture. North Carolina's economy relies heavily on these individuals, and they deserve to have access to the care they need to be able to see a doctor when they get sick.