Take Action!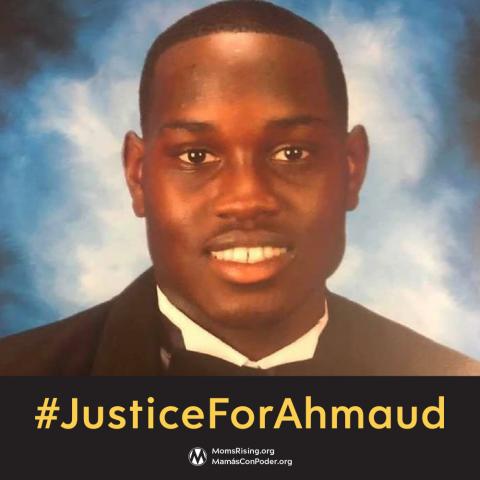 QUICK ACTION for Ahmaud Arbery
This was a tough Mother's Day. Not just because of the pandemic. We were also all thinking of Ahmaud Arbery's mother Wanda, who was grieving the loss of her son at the hands of two men who literally hunted down and killed him while he was jogging.
Just last week — ELEVEN WEEKS LATER — Gregory and Travis McMichael were arrested for the shooting. The prosecutors and police sworn to protect families and communities instead hid and covered up a horrific murder. ELEVEN WEEKS LATER. Ahmaud's mother and his friends and family have had to wait eleven weeks for any measure of justice. And their wait won't be over until full justice is served to Ahmaud's killers and those in the white supremacist system who failed him.
Join us to demand the removal of the district attorneys and the sheriff who failed in their duties to Ahmaud, his family, and the people of Georgia.
Here's what happened:
On February 23rd, while out for a jog through the Satilla Shores neighborhood a few miles from his home, 25-year-old Ahmaud Arbery was followed and cornered by Gregory and Travis McMichael. A scuffle ensued as Arbery attempted to defend himself, and three shots were fired, killing Ahmaud.  
The McMichaels' claims have varied between self-defense and attempting to issue a citizen's arrest (which they had no authority to do, having witnessed no crime), justified by their sense of while supremacist entitlement. They remained free until public pressure prompted their arrest on May 7th. 
And let's be clear: The video of the murder did not prompt their arrest. The public release of the video did.
Sign now to demand justice for Ahmaud. 
Instead of swiftly investigating the death of a man, Georgia officials dismissed their responsibility for over two months. The prosecutor originally assigned to the case, Brunswick DA Jackie Johnson, recused herself because the elder McMichael had worked as an investigator in her office. The case was then assigned to DA George Barnhill, who had the case for weeks and actually stated that "it appears [their] intent was to stop and hold this criminal suspect until law enforcement arrived. Under Georgia law, it is perfectly legal." He later recused himself for also having a conflict of interest. 
Instead of standing up for Ahmaud, his family, and their community, Johnson and Barnhill stalled, ignored, and even justified what happened.
Finally, just last week — after horrifying video of the murder was released online — a district attorney from another county — Tom Durden — filed charges against the McMichaels.
That is eleven weeks Ahmaud's mother Wanda has had to wait for an ounce of justice to be served. "He was out for his daily jog and he was hunted down like an animal and killed," Arbery's mother Wanda told CBS News. No mother should have to endure this pain. Unacceptable.
Join us to demand justice for Ahmaud.
This week, Ahmaud and his mother should have been celebrating his birthday (May 8) and Mother's Day. Instead, his mother, friends, and family continue to grieve an unimaginable loss and witness a system that continues to fail too many.
While we demand justice for Ahmaud, and accountability for public officials who failed him and his family, let's remember this incident does not stand alone. Whether it's jogging, driving, walking, or playing — people of color continue to be targeted for just existing. And their attackers continue to walk free. Enough. We cannot let this stand.
"That these people have not been charged or held to account in any way speaks volumes about the level of respect that law enforcement in Glynn County have for Black lives," Southern Poverty Law Center President and Chief Executive Officer Margaret Huang has rightly stated.
Join us to demand justice for Ahmaud, and for his mother. We call for the following:
DA George Barnhill must be removed from his position due to prosecutorial misconduct related to the killing of Ahmaud Arbery, and disbarred.
DA Jackie Johnson must be removed from her position due to prosecutorial misconduct related to the killing of Ahmaud Arbery, and disbarred. 
Glynn County Policy Chief John Powell, currently on administrative leave on charges of corruption, must be removed immediately from his position and barred from law enforcement in any capacity.
Together we can make a noise that cannot be ignored by Georgia Governor Kemp, the Georgia Bureau of Investigation, and the State Bar of Georgia.
We should be horrified and angry. And we need to take action to not only hold those involved accountable for their crimes and failures, but also to call out and dismantle the white supremacist systems that enable and fuel these incidents of terrorism against individuals and communities of color every day.
Thank you for all you do.