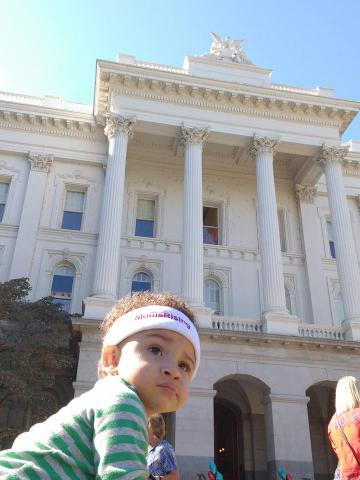 Quack Quack! Can you back up California's Littlest Learners?
Can I get a Roar! A Neigh! A Woof! A Meow!
Say Whaaaaat?
You heard that right! Animal noises and early learning- a match made in heaven, and two weeks ago, close to 75 of California's littlest learners roared, whinnied, meowed and neighed in support of high-quality, affordable early learning, including childcare and preschool, at the State Capitol in Sacramento! We were joined by state and local leaders, community partners, and local moms, kids and families, and we felt serious momentum- make that MOMentum- in the air!
We can't let this MOMentum fade! Can you tell California's Legislature to continue to lift up and prioritize early learning, including childcare and pre-k,  as they head back into the legislative session?
Last year, the California Legislature passed a budget that contained significant investments in early learning, and takes us miles ahead in lifting up our children and families -- but we have a lot of work that still needs to be done to ensure that ALL kids in California have access to strong early learning opportunities!
Can you back up these pint sized runners, and take a minute to remind the California Legislature to continue to prioritize and strengthen early learning programs in California this year?
In California, nearly half of the state's infants and toddlers are from families who are struggling to make ends meet [1], and only 9% of eligible families receive subsidies to help with affordability [2]. It'spainfully clear that our kids and families need a boost. In today's economy, families often need two incomes just to make ends meet. 70.5% of mothers with children under age 18 are in the labor force either out of necessity or by choice. [3]  And sadly, only 3 in 10 of our littlest learners have access to affordable high-quality preschool opportunities.[4] Research tells us that high-quality early learning matters -- it provides the foundation on which our kids' hopes and dreams will be built. Early learning (programs like preschool and childcare) is a win all-around -- for families, for communities, and for our economy.
November 8th will bring changes across the state and country, and we need every opportunity to remind our elected leaders to give our littlest learners their best chance to thrive and succeed, and we can't do this without the voices of families across the state, like you!
Join us in reminding the California Legislature to give our littlest learners a strong start by prioritizing childcare and early learning in California!
Remember that when families raise their voices, California listens, and we won't stop roaring, woofing, neighing and raising our voices until ALL kids in California have access to quality, affordable early learning programs.
[1] & [2]: 2016 Children's Report Card, Children Now
[3]: Parents and the High Cost of Child Care, Child Care Aware
[4]: Early Learning: America's Middle Class Promise Begins Early, US Department of Education