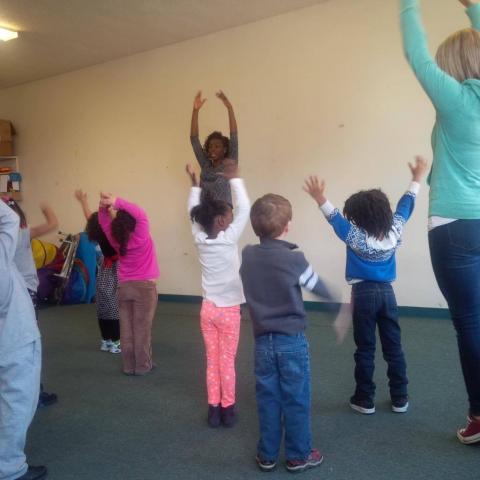 Put On Some Music and Dance!
Dance is my bestfriend. Dance has not only taught me how to be patient with myself and my body, but it has also taught me how to be patient with others. Movement for me brings peace of mind and spirit. It helps me deal with situations without using words. I was introduced to dance at a very young age. Growing up in a single-parent household as an only child, not a day went by without there being music and dance. My mother, a former dancer herself, loved to sing and dance around the house. She introduced me to all genres of music, dance and art. The arts have shaped my childhood. I began taking dance classes at the age of 6 and I never stopped dancing since. I always knew dance had its healing components but I never heard of Dance-Movement Therapy (DMT) until I got into college. The major was perfect for me as it combined helping to heal others and dancing at the same time! Although I am not a certfied Dance-Movement Therapist (yet), I truly understand the benefits of movement for the body, mind and soul. One of my personal goals is to share these benefits with the world so that we can be stronger, live longer and sustain a healthy social/emotional life. 
According to the American Dance Therapy Association (ADA), Dance-Movement therapy is "the psychotherapeutic use of movement and dance for emotional, cognitive, social, behavioral and physical conditions." In 1966, the American Dance Therapy Association was created, holding only 73 members. Today, the ADA has grown worldwide with members in over 30 countries. The field continues to grow because of its abilities to reach many communities. Dance therapists work with diverse populations such as the elderly, survivors of domestic violence, substance abusers (including those who suffer or have suffered from eating disorders), survivors of sexual/physical abuse, young people with adverse childhood experiences or ACEs, and children/adolescents who have learning disabilities. More recently, dance therapists are finding different approaches to prevent both chronic and acute diseases such as, breast cancer, arthritis, and hypertension. Who knew dance was so medicinal?
Dance-movement therapy is not specific to people with physical disabilities or those who have suffered through traumatic experiences. Similar to traditional approaches of psychological therapies, DMT promotes social emotional development and healthy living overall. It's good for everyone!
Dance/movement therapy is a form of expression and communication using the body. The roots of dance and movement are deeply embedded in the history of humankind. Dance has been and remains an important means of expressing and interpreting personal and cultural values. Through dance we are given the opportunity to connect with the past, present, and construct visions of the future. Our experiences and different perceptions shape the way we move, think and interact with the world. All people have a dance! 
Dance-movement therapy is unique from traditional forms of therapy because it allows the therapist to engage and focus on the individual's needs. Cultural competence is imperative within the DMT community. In order for a therapist to understand the behaviors of their participants, they must first understand the meaning of their cultural values. Additionally, understanding the cultural customs of the person in therapy is important because it leaves out any assumptions about what the person may or may not already know. Dance-movement therapy plays an important role outside of hospitals and medical facilities. Today, DMT is encouraged within all educational settings for health, wellness, and social emotional development. It is especially important for, students with special needs. DMT is acknowledged and practiced from high-end nursing facilities and elite private school to local clinics in low income communities, as well as in prisons, rehabilitations centers, and psychiatric wards. 
It is a dance therapists' job to create an environment for their patients that allows freedom and space to express themselves through movement. DMT promotes the use of motor skills, kinestetic awareness and coordination in young children and even adults! 
The beauty of DMT is that it can be done in the comfort of your own home, so put on some music and dance away!