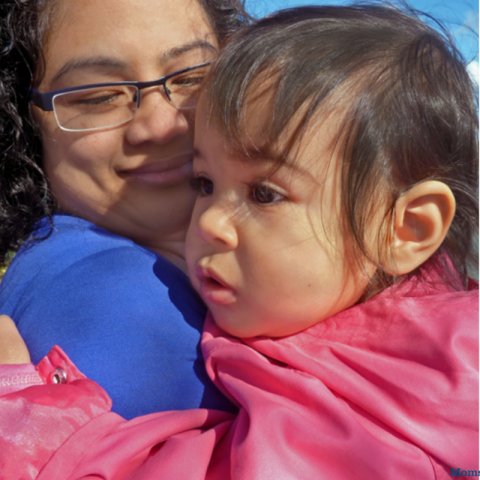 Punishing Immigrant Mothers Through Public Charge
Continuing its never-ending assault on immigrants, the Trump administration last month unveiled its latest weapon in its arsenal of misguided policies. The policy proposal, issued by the Department of Homeland Security (DHS), seeks to alter an antiquated term used in immigration law known as "public charge." Public charge determinations are made to assess whether someone applying for lawful permanent residency (also known as a green card) is likely to become primarily dependent on the government for subsistence. Trump's changes include a radical redefinition of  public charge, and the addition of a number of public benefit programs—Medicaid, food stamps, Medicare Part D drug subsidies, and certain forms of housing assistance—to the current list of benefits that immigration officials can consider when they assess whether an individual may become a public charge.
Understandably, public attention has focused on the "chilling effects" the rule would have on public benefits used by immigrants and their families, who are already fearful of seeking these programs' services in this hostile political climate. It is inhumane to punish people for using lifesaving services these public programs were designed to provide. Further, disenrollment from these programs will have negative ripple effects on the health and economic wellbeing of immigrant families and their communities at large.
Yet,  the majority of immigrant green card applicants, including those who have never applied for or received public benefits, will be more directly affected by a less widely understood part of the proposed rule. The proposal includes a change that would give immigration officials an unprecedented level of discretion to approve or deny green-card applications simply based on the applicant's socioeconomic and demographic characteristics. Officials will be able to weigh factors such as employment, education, income, health, and limited English proficiency and label them as "positive" or "negative." An immigrant applying for permanent residency will see her chances of approval diminish with every negative factor. An analysis of individuals recently granted a green card found an estimated 69 percent would have had at least one negative factor, and 43 percent would have had at least two under the proposed rule. Immigrant women and parents in particular would not fare well under these changes.  
Immigrant women, like U.S.-born women, are less likely to be employed than their male counterparts. While immigrant women participate in the labor market at rates similar to U.S.-born women, their participation is lower than that of men often due to family caregiving responsibilities. Immigrant women who are part of the workforce are disproportionately concentrated in low-wage jobs such as domestic workers, personal care aides, cashiers, and nursing, psychiatric, and home health aides. These are occupations that generally lack employer health coverage or employee salaries that are sufficient to pay for private health insurance. Many also work part-time to juggle the demands of work, school and/or family life.
In reformulating public charge, DHS also proposes to give heavier weight to certain factors, including employment, having a disability or medical condition and the inability to purchase private health insurance, and having low-income. Individuals with a household income below 125 percent of the federal poverty level would have a heavily weighed negative factor assessed against them, while those with an income of 250 percent or more of would be weighed as heavily positive. According to one estimate, immigrant women and immigrant parents are almost twice as likely to have a characteristic that would be considered a heavily weighed negative factor.
And the list of factors goes on. Immigrant women with less than a high school diploma will also be assessed negatively. While there is variation in educational attainment among countries of origin, immigrant women from certain countries such as Mexico, El Salvador, and China are less likely to have completed high school and less likely to overcome the negative factors weighed against them. The proposed rule also considers limited English proficiency (LEP) to be a negative factor in the public charge assessment. Yet women who speak English less than "well" or "very well" have fewer employment opportunities and are therefore less likely to participate in the labor market compared to LEP men (49 percent vs. 75 percent).
In short, the proposed rule stacks the odds for obtaining a green card—an already intimidating, expensive, and lengthy process—even higher for immigrant women. Moreover, if the changes go into effect, the U.S. would experience a dramatic shift in the types of immigrants granted permanent residency.  At the moment, two out of three green cards are granted to immigrants who are sponsored by a family member, and the majority of those green card recipients are women. But the changes pushed by Trump's administration would effectively block immigrant women—many of them moms and family caretakers—from keeping their families together or reunifying their families.
The policy would also create shifts in the demographic composition of immigrant communities. Currently, most green card holders are from Mexico, Central America, and Asia. Under the proposed rule, these immigrants including those from the Caribbean, South America, and Africa will be at higher risk of denial compared to immigrants from Europe, Canada, and Australia. A decline in immigrants of color would undermine the framework Congress put in place when it eliminated the country's previously racist immigration quota system in the 1960s in favor of a system that prioritizes family reunification, diversity, and employment opportunities.
Immigrant women are the heart and soul of immigrant families and communities. It is painful for me to think about what immigrant families will have to give up—health care, food security, and more affordable housing—and the near impossible criteria they will have to meet—higher incomes, private health insurance, and English proficiency—to keep their families intact. I often think of my mother, an immigrant who entered the U.S. on a visa and spent most of my childhood as a stay-at-home mom, an occupation the Trump Administration would not recognize and label as unemployment. She is an eloquent speaker in her native Mandarin-speaking tongue, but struggled for many years with her English proficiency. How many "negative factors" would immigration officials have found when she applied for permanent residency? And what would my family have done if immigration officials denied her green card application and she was no longer permitted to stay in the U.S.?
This is the gut-wrenching scenario millions of immigrant families will have to plan for if the rule goes into effect. But we don't have to accept the proposed changes without a fight. Take action: moms.ly/2QP9MDZ