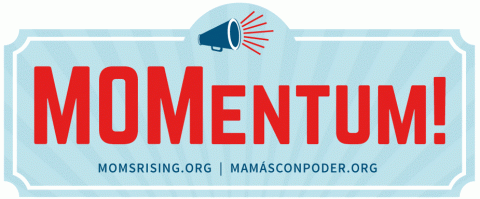 Proud. Angry. Determined. Let's go.
Everything has changed for every woman and family in this country.
In an unconscionable decision, the U.S. Supreme Court overturned Roe v. Wade, stripping away our autonomy, our right to be free and equal members of society, and our ability to access the reproductive health care we need. To call this ruling deeply harmful and utterly wrong is a gross understatement.
Forced births are never okay. This is not what the country wants. 
The MomsRising community will keep building power for the change that moms and families want, need, and deserve – access to abortion care, reproductive rights, family economic security, a care infrastructure, maternal and youth justice, and a brighter future where families and our economy can thrive. 
Keep scrolling to see the MOMentum and change – actions, updates, and opportunities – you made possible with your generosity this month.
Together we will prevail. 
In solidarity,
Kerri and everyone at MomsRising.org
---
The U.S. Supreme Court stripped away our autonomy, our right to be free and equal members of society, and our ability to access the reproductive health care we need. Tell Congress to take immediate action to secure our rights to reproductive healthcare including abortion care.
Donors, your generosity powers up this campaign. Thank you!
---
RALLYING FOR REPRODUCTIVE JUSTICE
Six in ten women who have abortions are already mothers. Moms want and need abortion care to be affordable and accessible to all who need it. That's why MomsRising is fighting for abortion care, including by joining Liberate Abortion campaign, led by SHEro and Mississippi in Action, in abortion rights rallies in Texas and Mississippi this month. 
UPDATE ON THE FORMULA SHORTAGE
With your support, MomsRising continues to lead the call – and get results – to end the formula shortage in the U.S. Here's the latest:
In our informative roundtable, U.S. Department of Health & Human Services Asst. Sec. of Health Admiral Rachel Levine outlined the help that's already on the way with new imports and domestic production of formula

Our Formula Shortage Newsletter brought expert tips and sound advice to members seeking guidance on feeding their babies

Our Breaking Through Podcast shared tips for making sure infants get the nutrition they need in this time of emergency
WIN FOR NEW PARENTS
Thanks to some serious pressure from MomsRising members like you, Medicaid and CHIP (Children's Health Insurance Program) enrollees in 14 states, including new state plans in Maine, Minnesota, New Mexico and Washington, D.C., now have access to postpartum health care coverage for a full year after pregnancy. This is a vital new resource that will help save lives, improve health outcomes, and decrease health disparities for new parents. Your steadfast support helped to make it happen!
POSTCARDS ARE BACK!
Election season is coming, our votes are needed more than ever, and everyone's favorite engagement is back – Mom-to-Mom Voter Postcards! In 2020, MomsRising volunteers (with the help of donors like you) sent a whopping TWO MILLION handwritten postcards to mobilize women to vote. Learn how you can make our 2022 voting postcard campaign MASSIVE and sign up for the next postcard campaign this fall.
"ALL MOMS HAVE SUPERPOWERS"
Meet Rachel — mom, childcare advocate, super Mom organizer, and one of MomsRising newest Beacon Community Hub Leaders. Read more about the Beacons, Rachel's mom superpower (she says all moms have them, #FACTS!), her inspiration, and her favorite part about being a Beacon.
Your generosity helps volunteers like Rachel develop leadership skills, build mom power in their communities, and make change at the local, state, and national levels.
 
BRIGHT SPOTS & CELEBRATIONS
In other MOMentum, we shared a sweet Father's Day reflection, a special #5Actions for Juneteenth, a commemoration of a decade of DACA and a fun selection of books in celebration of Pride Month.
MOMSRISING IN THE NEWS
MARKETWATCH: 'We are so burned out, exhausted, overworked and overtired': Women plead with Congress to act on paid leave and rising child-care costs during emotional hearing on Capitol Hill
"As moms, essential workers, and caregivers for elderly parents, we go out every day and do what we need to do to make sure everyone else is cared for. But sometimes it feels like no one is making sure we're okay. There are days when I just want to know that my health and my financial and emotional well-being matter. That my elected leaders have my back." — MomsRising member Donna Price (MomsRising member Tori Snyder is also quoted.) 
THE WASHINGTON POST: The prospect of more police at schools is no comfort for Black parents
"There's not enough space to dream beyond a world where we rely so heavily on police for everything." — MomsRising Youth & Family Justice National Director Beatriz Beckford
EDUCATION NC: Perspective | When we lift up babies and families, we can all soar
"I have four children from three births. With each birth, my needs, preferences, and choices were ignored. With each birth, I was pressured, even bullied…Maternal health truly is a public health emergency." — MomsRising Maternal Justice Senior Campaign Director Tina Sherman
FORTUNE: Companies are gaining an edge during The Great Resignation by doing more to help parents through the 'chaos years'
"We all know that parents can't work from home when their kids are at home with them 24/7 without any type of support." — MomsRising Early Learning National Director Lauren Hipp
---
We love to hear your feedback. Send your thoughts to donors@momsrising.org. Thank you!