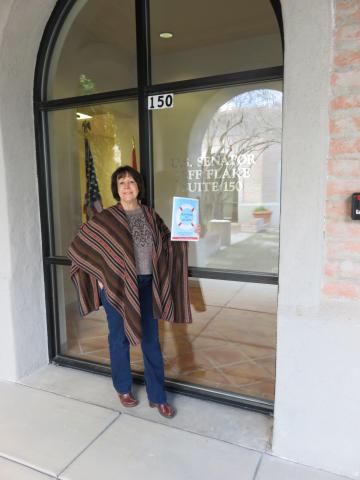 #ProtectOurCare: We can't wait for repeal and replacement!
I am a 4th generation daughter of Arizona, pushed to speak out to my community about the future of our Healthcare situation.
Representative McSally stunned me, saying (paraphrasing) it will take years and years for the Republicans to figure out health care.
This is NOT acceptable! Health care is vital, it's also personal, but I think I speak for many people, like myself and my two children, who have pre-existing conditions.  As a self-employed filmmaker, Obamacare-- also called the Affordable Care Act-- is our health care.  
The Urban Institute study found repealing ACA would leave 30 million people without the security of health coverage.  Also, millions of people would see increases in their taxes as currently ACA provides many with health care credits.  Further, all new insurance plans are required to cover preventative services at no cost.
Decades ago, I cheated death, yet that fact prevented me from obtaining health care.  The organization MomRising inspired me to address how ACA is providing our healthcare now, allowing me to live my life knowing I can no longer be denied.