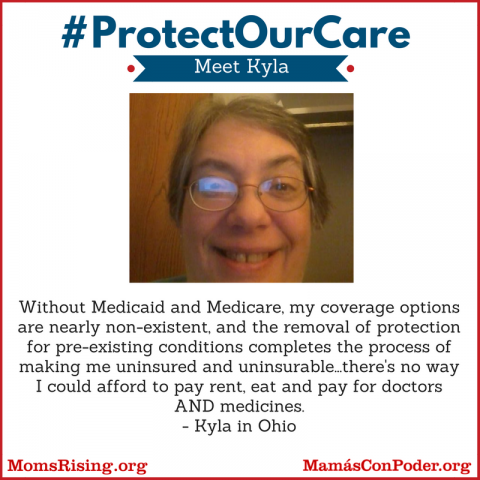 #ProtectOurCare Meet Kyla in Ohio!
Quality, affordable healthcare coverage is incredibly important to families in the U.S.
MomsRising has recieved thousands of messages from our volunteers with stories about why the Affordable Care Act (a.k.a. Obamacare), Medicaid, CHIP, and Medicare matter for the health of their families. This #ProtectOurCare blog series will highlight many of the stories we've received.
From Kyla in Ohio:
"

I'm a college graduate who worked for 36 years, most often with two jobs. Unfortunately, a combination of health issues forced me onto permanent disability. Without Medicaid and Medicare, my coverage options are nearly non-existent, and the removal of protection for pre-existing conditions completes the process of making me uninsured and uninsurable. I've had one fatal heart attack, one non-fatal, one double bypass, one achilles tendon reconstruction, and am being treated for hypothyroid, osteoarthritis, diabetes and A-fib. I need regular, if not frequent, doctors' check ups and lots of meds just to keep living. My total income is less than $1300/month, so there's no way I could afford to pay rent, eat and pay for doctors AND medicines."