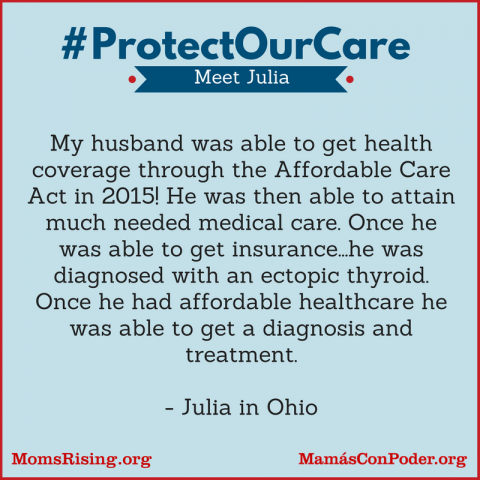 #ProtectOurCare Meet Julia in Ohio!
Quality, affordable healthcare coverage is incredibly important to families in the U.S.
MomsRising has recieved thousands of messages from our volunteers with stories about why the Affordable Care Act (a.k.a. Obamacare), Medicaid, CHIP, and Medicare matter for the health of their families. This #ProtectOurCare blog series will highlight many of the stories we've received.
From Julia in Ohio:
"My husband was able to get health coverage through the Afordable Care Act in 2015! He was then able to attain much needed medical care. He had his entire thyroid taken out in 2010 but never was able to control his thyroid levels. For more than four years he did not have insurance, so he was not able to get a diagnosis. Once he was able to get insurance he was diagnosed with an ectopic thyroid. It was in his chest and was the size of a fist. It was taken out by a general surgeon who had a thoracic surgeon there in case they needed to split his sternum. They was able to get it out without sawing him open. It had cancer in it too! Once he had affordable healthcare, he was able to get a diagnosis and treatment. Insurance policy was through Anthem and was $85.00 a month with a $1500.00 deductable."