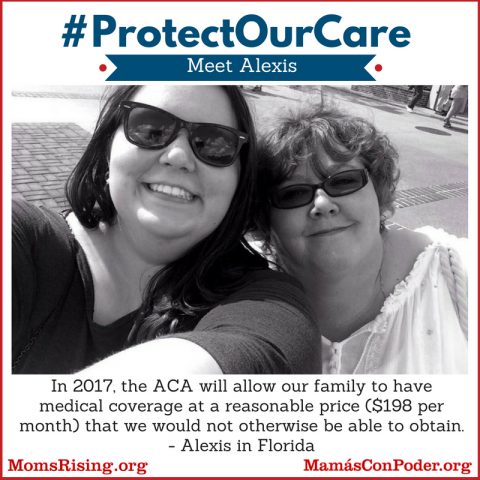 #ProtectOurCare Meet Alexis in Florida
Quality, affordable healthcare coverage is incredibly important to families in the U.S.
MomsRising has recieved thousands of messages from our volunteers with stories about why the Affordable Care Act (a.k.a. Obamacare), Medicaid, CHIP, and Medicare matter for the health of their families. This #ProtectOurCare blog series will highlight many of the stories we've received.
From Alexis in New Port Richey, Florida:
My family is greatly impacted in a positive way by the Affordable Care Act.

 

With 2 women in the family, we don't have to pay different rates than the two men. Our children who are in college (22 and 19) are allowed to stay on our plan. It has made birth control accessible to our daughter at no cost. In 2017 it will allow our family to have medical coverage at a reasonable price ($198 per month) that we would not otherwise be able to obtain.

 

In addition to the affordability, everyone in the family is guaranteed coverage even though we will be changing our insurance company/plan and have pre-existing conditions. Without the ACA, we'd be denied coverage and it would be impossible/difficult to obtain due to lack of employment.

 

My husband suffered a stroke in 2013 but eventually returned to work. In October of 2015 he was laid-off from his job as a computer programmer for a major U.S. bank without any warning. He was one of 300 people who lost their job that day. Meanwhile, he suffered some side effects from the stroke and wasn't able to look for a new job making him in-eligible for unemployment or any benefits. He filed for Social Security Disability in November of 2015 and was approved in July of 2016. Medicare is not available until 24 months after approval. Upon his 10 week severance package from the bank ending, we couldn't afford to lose our medical, dental and vision benefits so we opted for COBRA. The cost has been $1,678.69 medical; $126.69 Dental; $19.29 Vision for a total of $1,824.67 per month. In the meantime, we had no income and numerous expenses.

 

You don't receive any payment from disability until they determine if you're approved. Upon approval, they reimburse you for any money owed after the first 5 months of the process. They don't pay you for being disabled during that time. Our income went from $100,000 annually to $0. We now receive $2,396 per month from disability. I'm looking for employment but presently don't have access to any type of employee benefits or income.

 

The ACA is a lifeline to our family. Without it and its benefits, our family will suffer greatly. It is essential the ACA remains in tact or improved upon.
You can read more stories from parent across the country here: https://s3.amazonaws.com/s3.momsrising.org/images/Lifesaver_Book_-_Final...
And if you have a story of your own you'd like to share, you can submit it here: http://action.momsrising.org/survey/healthcare-stories/