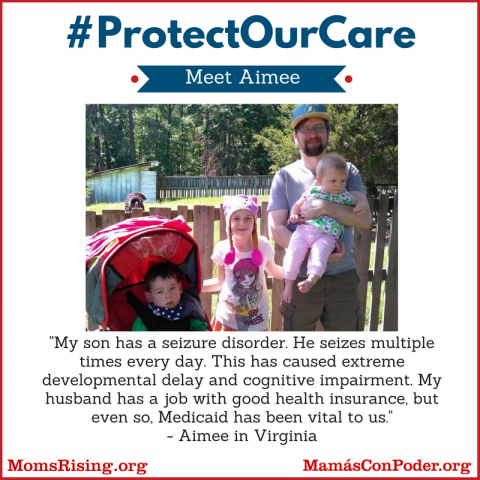 #ProtectOurCare Meet Aimee in Virginia
Quality, affordable healthcare coverage is incredibly important to families in the U.S.
MomsRising has recieved thousands of messages from our volunteers with stories about why the Affordable Care Act (a.k.a. Obamacare), Medicaid, CHIP, and Medicare matter for the health of their families. This #ProtectOurCare blog series will highlight many of the stories we've received.
From Aimee in Virginia:
"

My son has a seizure disorder. He seizes multiple times every day. This has caused extreme developmental delay and cognitive impairment. My husband has a job with good health insurance but even so, Medicaid has been vital to us. The copays on my son's seizure medications are hundreds of dollars a month, as are the copays on his therapies. Medicaid covers these. It also pays for a respite caretaker for him which is necessary for my family's wellbeing. When you have a nonverbal child with seizures, you can't just hire a random babysitter you need someone who knows him and is trained...Medicaid is necessary to sustain his life.

."
You can read more stories from parent across the country here: