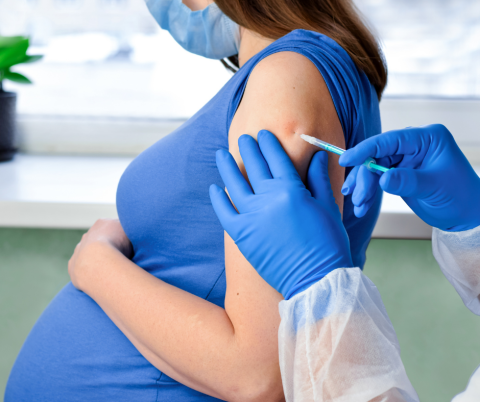 Protect Yourself. Protect Your Baby. Get Vaccinated.
Navigating the vast world of advice offered to pregnant individuals can be daunting, but there is at least one thing experts agree on: making sure you get the vaccines recommended during the course of pregnancy, including the COVID-19 vaccine, is one of the best ways pregnant people can help protect their health and the health of their baby.
Recommended maternal vaccines for influenza, Tdap (tetanus, diphtheria and pertussis), and COVID-19 provide critical protection to both mother and baby. Pregnant individuals are more susceptible to serious complications from infectious disease, so getting vaccinated during pregnancy helps prevent expecting people from contracting these potentially harmful illnesses. Getting vaccinated during pregnancy also helps protect newborns from harmful pathogens during the "window of vulnerability" when infants are too young to receive their own vaccinations.
The recommendation that pregnant individuals receive influenza and Tdap vaccines has been in place for many years, and we have a large body of evidence that shows these vaccines work. Pregnant individuals are more than twice as likely to be hospitalized for influenza than those who are not. Additionally, newborns whose mothers received an influenza vaccine are up to 81 percent less likely to be hospitalized with influenza in the first six months of life than those with mothers who did not receive a vaccine.
We see similar trends with pertussis—also known as whooping cough—which is a highly contagious disease that can be particularly harmful to infants in their first six months of life. One reason pertussis can be so dangerous to infants is that they cannot be vaccinated against pertussis until they are two months old. Fortunately, a Tdap vaccination administered to a pregnant individual during the third trimester is able to reduce the risk of infants contracting pertussis in their first two months of life by more than 75 percent by transferring protective maternal antibodies from the mother to the infant. Though effective, these antibodies are typically short lived, leading pregnancy experts to recommend an additional dose of Tdap during each pregnancy, even if your pregnancies are only a year or two apart.
We also know that new vaccines like the COVID-19 vaccine are critical to protecting pregnant people, who are at greater risk of severe illness and death than non-pregnant people. Like immunization for influenza and Tdap, COVID-19 vaccines given during pregnancy are also able to protect infants from contracting the virus. In numerous studies of vaccinated mothers, protective antibodies were found in the babies' umbilical cord blood and in the mothers' breastmilk.
At the Society for Maternal-Fetal Medicine (SMFM), which represents obstetricians with special expertise in high-risk pregnancies, we are deeply committed to supporting the health of pregnant individuals and their babies. Ensuring that all expectant mothers receive recommended vaccines against influenza, Tdap, and COVID-19 is a vital part of our mission to support maternal and infant health. To better understand the benefits of vaccination, we strongly recommend all pregnant individuals talk to their clinicians about maternal immunizations. 
Unfortunately, despite advice from experts and recommendations from the Centers for Disease Control and Prevention (CDC) on maternal immunization and the evidence that vaccines protect both mother and baby, only 30.7 percent of pregnant individuals receive both recommended vaccines, influenza and Tdap. These rates are even lower among Black and Hispanic populations. This is also true of the COVID-19 vaccine—current data indicates that only 42% of all pregnant people have been fully vaccinated against COVID-19 as of January 2022.
One step that pregnant people can take to help address these gaps is to talk with their doctor, midwife, or other trusted clinician about getting their recommended vaccines. These health care providers are trained to offer accurate information and answer questions about the safety and efficacy of vaccines during any point during pregnancy. More information for pregnant patients may also be found on SMFM's new website for patient education, www.highriskpregnancyinfo.org. 
In addition to gaps in knowledge among pregnant patients, there are also system-level barriers driving low maternal immunization rates. Leading maternal health stakeholders have identified two primary challenges impacting and potentially impeding even the most robust efforts to close vaccination gaps. These challenges are: 1) inadequate high-quality maternal immunization data, and 2) issues related to coordination and implementation of maternal immunization programs among at-risk communities. To address these systemic gaps, SMFM strongly recommends the thoughtful and careful inclusion of pregnant people in all clinical trials, unless there is a medically sound reason that they should be excluded. Including pregnant people in vaccine trials will prevent voids in data that too-often lead to misinformation and doubts about vaccine efficacy.
To learn more about the longstanding barriers that contribute to continued maternal immunization challenges and opportunities to improve vaccine access, please read the recent white paper from SMFM and other leading health organizations here: https://www.healthywomen.org/health-care-policy/white-paper-seeks-to-improve-maternal-immunization-rates.