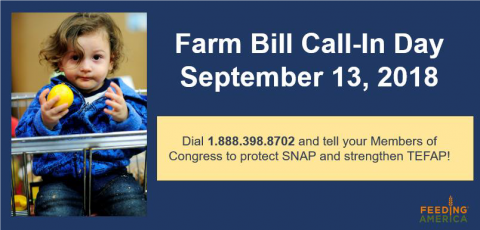 September is Hunger Action Month and the 2018 Farm Bill is at a very important crossroads. Right now Congress is trying to find a compromise between two vastly different Farm Bill versions. The House passed a Farm Bill that would cut nearly $20 billion in food assistance. The Senate's Farm Bill protects anti-hunger programs, and we are urging Congress to adopt the Senate's provisions.
Take action this Hunger Action Month and join thousands of others on Thursday, September 13 in a Farm Bill National Call in Day to protect nutrition assistance.
Calling Congress is Easy!
Dial 888-398-8702, and follow the instructions to be automatically connected to your Representative. Choose an office first, and tell the staff member who answers that you'd like to leave a message about the Farm Bill.
Sample Script:
"Please protect SNAP - a critical program that helps millions of children, seniors, and veterans across the country - by supporting the Senate SNAP provisions of the Farm Bill."
When you are finished with your message, call your other two members of Congress and leave messages for them as well.
Spread the Word
Help spread the word by sharing with your family and friends!
Sample social media messages
Will you stand with children, seniors, families, singles and veterans facing hunger? Call your Members of Congress at

1.888.398.8702 and tell them to protect and strengthen federal nutrition programs. #FarmBill

#SNAP serves 20 million children. Call your Members of Congress at 1.888.398. 8702 and tell them to oppose any cuts to SNAP. #FarmBill #ProtectSNAP

#SNAP provides healthy, nutritious food to over 40 million Americans. Dial

1.888.398.8702 and tell your Members of Congress to protect Americans facing hunger.