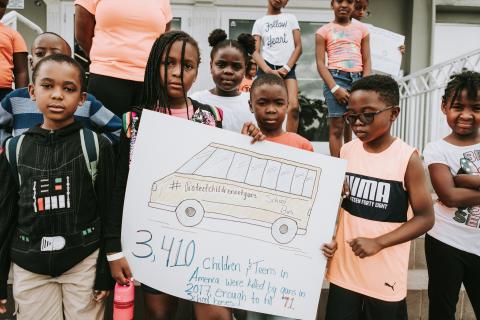 Protect Children, Not Guns
Will our nation ever decide to prioritize children's lives over guns? Once again the headlines this week were all too familiar: "'Nothing short of horrific': Three killed, including two children, in shooting at California food festival." "Gilroy joins grim fraternity of communities terrorized by mass shootings." On Sunday, a dozen people were injured by a gunman with an assault-style weapon who fired on the Gilroy Garlic Festival, a beloved annual community event in the city 80 miles southeast of San Francisco. The three people killed were 25-year-old Trevor Irby, 13-year-old Keyla Salazar, and six-year-old Stephen Romero. Keyla's aunt told reporters that she was eating ice cream with her parents and younger sisters when the shooting started, and stayed behind to try to help an older relative who used a cane. Stephen's father Alberto told a local television station that he was at home when his wife called to tell him that she, her mother, and Stephen had all been shot. He raced to the hospital where his son was in critical condition only to be told minutes later that Stephen had died: "My son had his whole life to live, and he was only six."
Why does gun violence remain a uniquely horrible American epidemic? Mass shootings like the one in Gilroy may make national headlines, but children continue to be killed and injured by guns every day in America. The day after the Gilroy shootings, 11-year-old Karon Brown was laid to rest in Washington, D.C. Karon had been at a McDonald's near his home picking up a snack for his sister on July 18 when a fight broke out between several adults and a group of children. His 12-year-old brother managed to race home, but Karon not so lucky. He was shot as he tried to get into a car and flee. Karon's mother had recently moved her family to that community in part to try to escape the violence in their previous neighborhood where Karon's classmate and friend 10-year-old Makiyah Wilson was shot and killed last year walking from her front porch to the ice cream truck. At a community vigil, Karon's family remembered the rising sixth grader as a loving, funny child who wanted to grow up and play in the NFL. "He was the joy of our lives," his mother said.
Every year, students at Children's Defense Fund Freedom Schools® summer enrichment program sites across the country participate in a National Day of Social Action to highlight policy concerns that matter to children and youths and teach them that they are never too young to speak out and make a difference. This year CDF Freedom Schools scholars demanded action on gun violence prevention. On July 17th, scholars in kindergarten through 12th grade marched to places of power in their communities with homemade signs and chants to call on lawmakers to Protect Children, Not Guns. One CDF Freedom Schools site produced their own music video to make their voices heard.
In 2017, 3,410 children or teens were killed with guns—enough to fill 71 school buses. Many of our CDF Freedom Schools children know that one life lost to gun violence is too many and it's long past time to act.
In Washington D.C., where Karon's murder is one of a string of devastating gun deaths this summer, hundreds of students rallied at the U.S. Capitol to demand Congressional action. The day after Karon was killed, 17-year-old rising D.C. high school senior Ahkii Washington-Scruggs and his father were found shot to death in their apartment across town. Ahkii, a football player who also loved poetry and art, recently shared a poem he'd written, "I'm From," with his coach:
            I'm from a city where it's a blessing to see the age 20
            Where I'm from you get killed over stupid stuff…
In St. Paul, Minnesota, 1,100 students were joined by elected officials marching to the State Capitol. Eleven-year-old students Sekinat Fakunle and Destiny Cannon described to a reporter a recent school shooting drill where they practiced hiding behind a coat rack: "It's scary," said Destiny. "That's why we're here. We're protesting for people to put their guns down." In North Charleston, South Carolina, where CDF Freedom Schools scholars were joined by parents, community leaders, and the police chief at a 200-person rally, rising eighth-grader Dajia Hart said, "Today we are going to be marching for all lives that have been lost. It makes me upset."
In Jackson, Tennessee, where a three-year-old died after finding a loaded gun under a mattress in May, scholars were taught what to do if they find a gun. Tanya Rivers, whose 16-year-old son James died in an accidental shooting in February, was one of the speakers and said: "If you see a gun, don't play with it. Let someone know. I'm begging you, don't play with guns. You are the future, you have a life to live, but you can't live it if you're not here." Her words sounded much like Alberto Romero's after he lost his son in Gilroy this week: My son had his whole life to live.
Our children are telling us they want to live and desperately crying for adults to do something. Instead a child or teen is killed with a gun every two hours and 34 minutes in our gun saturated nation. Parents are now adding bulletproof backpacks to their back-to-school lists. When will we act and provide the common sense gun violence prevention measures our children deserve? How many news stories with the same headline and deadly ending are too many? It is way past time for adults in America to protect children, not guns.
Photo credit: David Samuel Photography