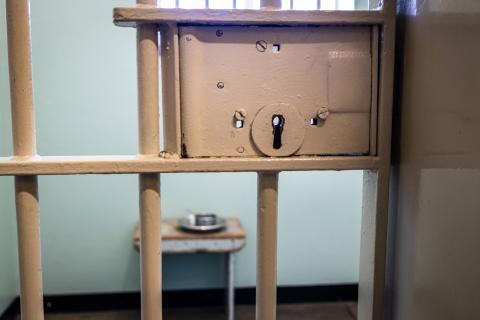 Prisons Harm Kids. Close Sununu Youth Prison!
It's time to END youth incarceration here in NH and instead focus on investments in services and supports that create opportunities for New Hampshire youth. 
Join me in calling on Gov. Sununu to close the Sununu Youth Services Center for good. What has happened and continues to happen to NH youth is unacceptable and heartbreaking.
Over the years, the reports of abuse coming out of the Sununu Youth Prison in Manchester have been nothing short of horrifying. Over 400 reports of abuse including sexual abuse have occurred. One case, described in 2018 by the Disability Rights Center of New Hampshire, detailed that prison staff abused a child with emotional disabilities by using unnecessary restraints during an incident that resulted in the child breaking their shoulder blade. [1] 
One incident alone warrants closing this down. Add your name now to urge Gov. Sununu to close this youth prison. 
The truth is prisons harm kids. Incarcerated youth often experience dangerous facility conditions such as physical and chemical restraints, high suicide risk, sexual and physical abuse, and solitary confinement. [2]
Youth incarceration is ineffective. Due to the serious, harmful effects of incarceration on a person's mental and physical health, their economic and social prospects, and their relationships, and on the people around them, there is growing consensus that youth confinement is ineffective in comparison to community-based programs that provide support, services and opportunities for youth.
And the youth prison costs too much! New Hampshire wastes about 13 million dollars annually to fund the facility, resources that could be redirected to prevent youth from ever entering an egregious facility like the Sununu center.  The center is built to hold around 100 children, but in recent years, it has held no more than 20 children at a time. This amount of money could be used to fund needed mental health and restorative programs. According to the ACLU, the average cost of a juvenile prison bed is $241 a day, while a slot in a community-based program costs less than $75 a day. [3] 
→ It's time to close the Sununu Youth Prison! Add your name now.
Did you know that the United States, on any given day, incarcerates nearly 60,000 youth under age 18 in jails and prisons? [4]  Even worse is that approximately 250,000 youth are tried, sentenced or incarcerated as adults, and around 10,000 juveniles are housed in adult jails and prisons – 7,500 in jails and 2,700 in prisons, respectively. [5]
It's time to END youth incarceration and invest in services and supports that create opportunities for New Hampshire youth!
The incident I was telling you about above? The child with emotional disabilities that had their shoulder blade broken by prison staff? It wasn't reported and the child did not receive proper medical attention for several months.
In fact, over 400 cases of child abuse were brought against the Sununu Youth Services Center. This is very hard to read, so brace yourself: According to reports, from 1960 to 2018, over 100 staffers physically and sexually abused children. Survivors state that staffers choked children, burnt them with cigarettes, beat them until they were unconscious, broke their bones, and were locked for weeks or months in solitary confinement while sometimes shackled or strapped naked to their beds. [6]
Closing youth prisons is important not only for the safety of our children, but also that money could be used to create more programs that help troubled youth and invest in communities. Invest in support, not incarceration for NH kids.
In 2021, Governor Sununu signed a two-year state budget that included a mandate to close the prison by 2023. In the eyes of organizations like MomsRising, advocating for the closing of Sununu, the explosive accounts of abuse were thought to be the final push in closing the prison. But according to the New Hampshire legislature, the government has hired a private contractor to build a smaller youth prison center. 
We don't need more youth prisons, we need more youth and family supports!
Creating another youth prison does nothing to address the harms or root causes. Children should be protected, not placed in environments where they will be exploited and taken advantage of physically, mentally, sexually and emotionally.  
Together we can END the incarceration of youth in New Hampshire and instead invest in support!
The New Hampshire Sununu Youth Services Center is the perfect example of how locking up young people instead of investing in productive rehabilitation services can lead to lasting harm and corruption.