President Obama's immigration speech in Vegas; thinking about families and our nation's economy
What happens in Vegas shouldn't always stay in Vegas.
Earlier this week, in a crammed high school basketball stadium in Las Vegas, I heard President Obama speak about the need to finally, truly fix our broken immigration system so that it's fair and also brings economic strength to our entire nation.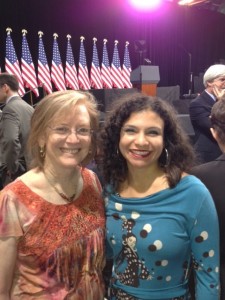 Right now, too many families and businesses in the United States are suffering because we lack a modernized roadmap to citizenship for aspiring citizens.  The clock is ticking for families and for our economy.
According to the latest Associated Press poll, the majority of Americans favor providing a process for undocumented immigrants already in the United States to become U.S. citizens.
However, even though the President is making immigration reform a top priority for his administration, and even though a bi-partisan committee of Senators has just released their principles for comprehensive immigration reform, there is no guarantee that Congress will stop their posturing and agree on policies that are good for all of our families and ensure a thriving economy.
Immigrant families are key contributors to our nation's economy.  Over the last 15 years, immigrants have increased the rate by which they start businesses by more than 50 percent, and undocumented immigrants contributed more than $11 billion to our economy in 2010 alone.
All parents in our country should be able to work hard and provide for the well-being of their families.
Let's face it, most of our families came to the United States from another country at some point in time. We are a strong, innovative nation because of our diverse backgrounds.  The time is now to fix our outdated, broken immigration system.
Your voice is needed.
*Please join me in sending a message to Congress that now is the time for comprehensive, and inclusive, immigration reform that strengthens our families, unifies our communities, supports our national economy, and includes a roadmap to citizenship for aspiring citizens: http://action.momsrising.org/sign/2013Immigration_Reform/
Together we can be a powerful force for all women and families in our country.
This blogpost is part four of a four-part series on immigration in America. We highlight personal stories and offer ways to take action to support immigrant families. We invite you to check out the rest of the series, and to leave your comments below. - Eds.