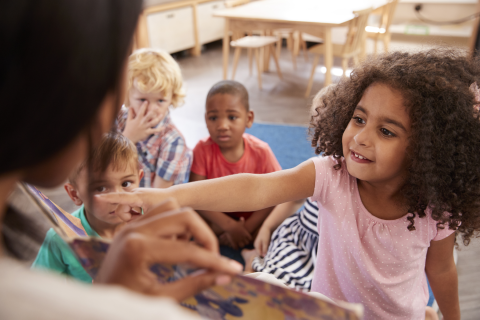 Preschool to Prison Pipeline
As a MomsRising volunteer for many years, I've advocated for making early learning available to every kid in our country, and for funding HeadStart to do this important work. You, too, can get involved in this important advocacy, by clicking here to sign a petition to fully fund HeadStart. Unfortunately, I've also seen in my own community this year that without good policy, appropriate avenues for feedback, and culturally competent staff, HeadStart programs can struggle to provide effective early learning services for Black, Indigenous and People of Color (BIPOC) families. But I've also learned that as a white mom, I have the power to do something about it.
In January of this year, a white mom called the police to report an "assault" against her white child by a Black child at the HeadStart preschool program both children attended, after the preschool sent home an "Ouch Report" indicating that her child had been scratched by the other child at school. Subsequently, a police officer showed up at the HeadStart preschool, asked to interview the Black child, and when the child wasn't at school, the officer was provided with the Black family's contact information by HeadStart staff. He called and left a message for the Black family requesting a call back to "sort this out."
In part because of my work with MomsRising, I know that the school-to-prison pipeline puts BIPOC kids in the justice system for school discipline issues at an alarming rate, and that it can begin as early as preschool. I and other community members met with the local chief of police to express our concern about the police response, and with leadership at Southern Oregon HeadStart to express our concern about their role in providing confidential contact information to a police officer when they were not required to do so.
To my surprise, the police department has seemed to be more willing than HeadStart to acknowledge that they made an error, and use that error as an opportunity to learn to do better.
The police chief told us that the officer who responded acted inappropriately. Once he understood that the child had not been assaulted after speaking to the child's mother and seeing the child's scratch in person, he should have gone no further, neither asking to speak with the child who caused the scratch, nor requesting the family's contact information and contacting them. The chief told us that he had a corrective conversation with the officer in question AND brought the case to the regular meeting of all patrol officers, letting them know that the officer had responded inappropriately, and that he expected a different response from them should they encounter a similar situation in the future. During our meeting, he agreed to reach out to the affected family and explain that a mistake had been made, what he's doing to correct it, and even potentially offer an apology. He also agreed to let HeadStart leadership know that unless a crime has been committed, they are under no obligation to release confidential information to his department.
In contrast, Southern Oregon HeadStart has denied that they have done anything wrong and are treating the Black family as the problem: They told us they were legally required to release the family's contact information when they were not. They made a new policy following the incident that said if they released confidential information against their own policy, all they have to do is fill out a form to say that they did it. They have never admitted the family's contact information shouldn't have been released or apologized to the family for releasing it. They changed their rules for public meetings when the affected mom began attending Board and Policy Council meetings to express her concern about what happened. They called the police on multiple occasions to ask what could be done about this mom who was making HeadStart look bad by complaining about the incident. They put her kiddo's enrollment in the HeadStart preschool on hold and attempted to move him to home-based schooling that his mom had not requested, making it so that he could no longer come to school.
Southern Oregon HeadStart Leadership has declined to work with local mediators or BIPOC organizations, telling advocates that they are looking to regional and federal HeadStart infrastructure to help them work on their cultural incompetence. This means that the next step for me and my fellow advocates is to contact higher levels of HeadStart, and we will, but in the meantime, I hope we can all agree scratching at preschool NEVER warrants a police response, and I'm calling on my fellow white women across the country to do better than some of our sisters in this story:
Don't call the police! When we call the cops on black individuals, families and children, lives will be lost. Some physical altercations between preschoolers are a normal part of the socialization process. If you're concerned that your child's school isn't taking their safety in the classroom seriously, speak with the school administration or look for mediation in your local community.         
Listen to BIPOC. Believe their experiences of racism and acknowledge our participation in it. Rather than becoming defensive, insisting what we've done is right, and excluding BIPOC folks from our programs and conversations like the local HeadStart, let's be like the police department in this story: willing to acknowledge what we've done wrong when we learn about it, and to use that learning as a chance to do better.     
Advocate for safe schools and preschools for everyone in our community. Without the pressure of white women like me who learned about what was happening and started complaining, it would have been easy for HeadStart and the police department to ignore what happened. Just as we can use our privilege to shut down conversations about racism, we can also use it to make other white folks pay attention.     
Here at home, I hope this mama gets an apology from the police chief. I hope HeadStart learns that they don't have to, and why they shouldn't, give out confidential information to the police unless there's been an actual crime committed, and they change their bad policy. I hope Oregon grows out of its heritage of entering the union as a state where Black people were legally barred from living here as a way to avoid the question of slavery. I've seen too many Black families decide to move away because this rural community quietly embraces that heritage, and treats BIPOC as the problem rather than confronting the racism unfolding around us, from the police to the preschool.