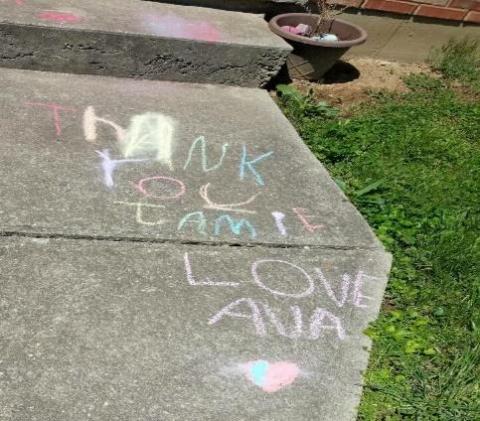 Preschool Home Visits in the Era of COVID19
Like a lot of parents of young kids who are trying to work from home these days – and are lucky enough to be able to do that – my most focused work time is in the early afternoon, when my three year old goes down for a nap.  At least sometimes.  One day, when I went to get her up, I discovered she hadn't slept at all – and she had found my mascara.  She had black streaks all over her face!
No nap, black streaks, and all, I've got to keep going.  I run a home visiting program in Northern Kentucky that works with about 75 families to empower parents to be their children's first teacher and help prepare their children for kindergarten.  How can you do home visits when everything is shut down, you ask?  That's part of the struggle – we've had to turn on a dime to stay connected with our families, and they need that connection now more than ever.  Many Home Visitors, like me, were once parents in a home visiting program.  Due to COVID-19, Home Visitors have had to come up with new and creative ways to engage families.  Home visits have always been geared around school readiness, parenting tools and techniques, and connecting families to resources, but now it's more important than ever.  We continue to connect families to food, cleaning supplies, help filing for unemployment and getting help with their rent or mortgage, but at an increasing rate… but maybe I should back up.   
For the last three and a half years, I have been the Coordinator for the Home Instruction for Parents of Preschool Youngsters (HIPPY) program at Brighton Center in Northern Kentucky.  Before COVID-19, HIPPY home visitors went into the homes of our families with children ages 2-5 once a week.  Each visit, we brought a packet of school readiness activities for parents to do with their children, one activity for each day.  HIPPY Curriculum focuses on areas of important development for kindergarten readiness and is designed for children to learn through play. Our Home Visitors talk with moms and dads about how things are going, share curriculum, books, activities and strategies to implement with their children.  Then the world turned upside down, and so many things had to change.  
Obviously, we can't meet with parents in their homes any more.  Now we're doing virtual visits, by videoconference or by phone.  It's not perfect – about 10-15% of our families are having trouble connecting because of Wi-Fi issues or limited data plans.  The HIPPY national office sent electronic versions of our curriculum, but a lot of families don't have computers or printers.  About 70% of families served through Brighton Center were working prior to COVID-19, but they didn't get enough hours or make enough money to make ends meet.  They were just one or two paychecks away from a catastrophic situation; such as this pandemic.  Budgets definitely didn't stretch to include extras such as technology needs.  What was once considered an extra, is now considered essential.  Home Visitors are dropping lesson plans off at the families' homes, 2-4 weeks at a time, and then connecting by Zoom call, regular call, or FaceTime to go over the material.

When we do porch drop-offs, we aren't just leaving packets.  We bring books for parents to read to their children, extra activities, and supplies, to ensure parents have what they need without stretching their already tight budget.  We're lucky that our HIPPY program is a part of Brighton Center, a non-profit social service agency that has been in the community since 1966.  Brighton Center works holistically to partner with families on their path to self-sufficiency through 41 unique programs.  Some of the programs needed most by families are access to emergency assistance services including: our emergency food pantry, personal care items, cleaning supplies, rent and utilities, and assistance filing for unemployment benefits through the Kentucky Career Center, which Brighton Center is the operator of. 
What hasn't changed through COVID-19 is that we're still connected to our families, still helping parents prepare their children for kindergarten.  Families are leaving messages in chalk on the sidewalk for when our Home Visitors come to drop materials off, saying "we love you" and "we miss you!"  The kids are excited to watch out the window for their Home Visitors and yell "hiiiii!"  This is such an important connection for both Home Visitors and families during this time of isolation. 
I have heard that Congress is considering adding $100 million to the home visiting budget for coronavirus relief, and giving home visiting programs more flexibility to meet family needs.  This is exciting, as home visitation programs are incredibly important in ensuring strong communities and providing parents the necessary resources and tools to be their child's first teacher.   
It's hard – staying connected through the stress and anxiety, taking care of your own family, takes hard work.  Many of our families haven't had support systems that are reliable, that are there for them through thick and thin.  Even through COVID-19 and being disconnected, HIPPY Home Visitors and Brighton Center are there for our families, connecting people as best as we can through this time.  At the end, we are going to be better off.  We will still be here, and we will continue to ensure children are ready for kindergarten.  We are all in the same boat.  We are all doing the best we can.  Even with all of this, we are not going to give up on anybody.  We will continue to partner with families, even if it looks a little different than it did 8 weeks ago.  
Gotta go – naptime's over.