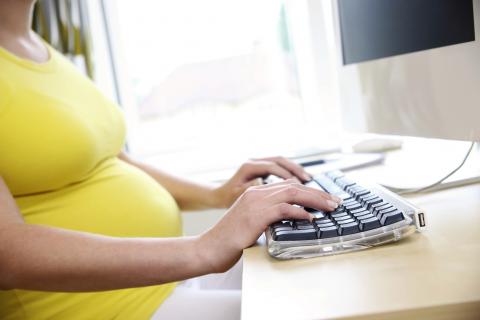 Pregnant & Standing All Day in Pennsylvania?
Do you think it's absurd that some employers can still fire pregnant workers for things like, oh, needing to go to the bathroom, or for asking to sit instead of stand at a cash register? And do you believe that no one's best interests are served when moms are forced to pump breastmilk in a bathroom stall after returning to work? ME TOO.
And shockingly, this is all happening right here in Pennsylvania. Pregnant workers can still being fired for asking for reasonable accommodations, and new moms can still be relegated to storage closets and bathroom stalls to pump.
But all is not lost! There is hope. The Pennsylvania Legislature is considering two bills which together would give more women workplace protections around pregnancy and breastfeeding. Read: no more nursing in bathroom stalls, and/or denial of minor adjustments like sitting on a stool instead of standing. This Central PA mom of two is pretty pumped (pun intended) about this news!
Pregnancy discrimination is all too common—even in 2015. MomsRising member Monica shared this story with us recently: "I was pregnant and at 8 months, I requested to be a cashier until I had my baby. But they refused. So I was pulling freight carts and pallets while pregnant. Eventually I had to stop working because I was dilated and they wouldn't put me on cashier duty."
Women like Monica comprise half the paid labor force, and three in four moms work outside the home. Too many of us are struggling to make ends meet despite working full-time or even two jobs. When working women, the primary purchasers in our consumer-fueled economy, are without their salary because they've been forced to quit, are fired, or are pushed into unpaid leave, it hurts our economy. It hurts us all.
So it's great news that the Pennsylvania legislature is taking up two important, working family-friendly bills, and even better news that hearings have already taken place in early October!
Here are the details on the two bills: 
The Pennsylvania Pregnant Workers Fairness Act (HB1176) would require covered employers to make reasonable accommodations related to pregnancy, childbirth or related medical conditions unless those accommodations would prove an undue hardship on the business. 
And the Workplace Accommodations for Nursing Mothers Act (HB1100) would help salaried women not covered by the Affordable Care Act and require their employers to provide break time and a private, sanitary space to express breast milk. 
That's great, right? But we still have a long way to go until these bills become law. Some are pushing back against these family-friendly, common-sense measures.
Providing reasonable accommodations to pregnant women and nursing mothers makes sense for so many reasons.
It helps businesses, and our economy. Research shows that when employers provide reasonable accommodations for pregnant workers they realize benefits to their bottom line, including reduced workforce turnover, increased employee satisfaction and productivity, and savings on workers' compensation and other insurance costs.

It also helps to protect the health of moms and children. The American Academy of Pediatrics recommends exclusively breastfeeding for the first six month's of a baby's life, followed by breastfeeding in combination with complementary foods until at least 12 months of age. Yet many working mothers in PA report facing difficulty in their workplaces when it comes to getting break time, and/or finding a private and sanitary space, to express breastmilk.
Change is possible. Twenty-seven states have enacted additional protections for nursing mothers in the workplace, and last year Philadelphia did so as well. And fourteen states and five cities--including Philadelphia and Pittsburgh--have passed laws requiring some employers to provide reasonable accommodation to pregnant workers. But pregnant and breastfeeding workers in more rural areas of the state (like where I live) deserve those protections too!
We can do better, Pennsylvania. No women should have to worry about being forced off the job if she gets pregnant or needs to pump milk for her child, and lose her paycheck and health care at the very moment her family needs her most.
Thank you. Together we're a voice for strong Pennsylvania families!