Poll of Trader Joe's customers shows rift between company, consumers on antibiotic-raised meat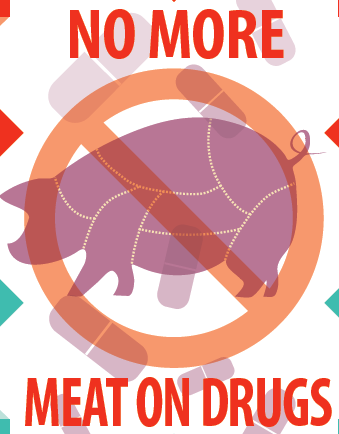 Talk about having faith in a company to do the right thing: a whopping 95% of Trader Joe's customers believe that the company avoids products that may harm public health or the environment, according to a poll released today by the Consumer Reports National Research Center.  But when it comes to selling meat raised on antibiotics, however, Trader Joe's has got a lot of room for improvement to live up to those expectations.
In late May / early June of 2013, Consumer Reports polled California residents who bought meat and/or poultry at Trader Joe's or other supermarkets to explore their attitudes about buying and consuming meat raised with and without antibiotics, and about Trader Joe's policies in this area.
The vast majority of Trader Joe's customers, 69%, agree that supermarkets that sell meat raised on antibiotics are doing a disservice to their customers.  Less than a quarter (23%) of those customers surveyed, however, even realized that the Trader Joe's currently sells antibiotic-raised meat.  Not surprisingly, 72 percent were concerned when they found out that it does.
Antibiotics are often routinely used in meat production to make the animals grow faster and to prevent illness in crowded living conditions.   Public heath experts agree that this practice promotes the spread of drug-resistant superbugs that are harder to treat and threaten public health.
After decades of inaction by the FDA or Congress to tackle this problem, our Meat Without Drugs campaign is urging supermarkets, starting with Trader Joe's, to stop selling meat raised with the routine use of antibiotics.   Indeed, 87% of Trader Joe's shoppers in the Consumer Reports survey agree that supermarkets and meat suppliers should work together to avoid giving animals antibiotics unless they are sick.
"Trader Joe's is clearly not living up to its customers' expectations when it comes to antibiotics and meat," said Jean Halloran, Director of Food Policy Initiatives for Consumers Union in a press release.  "Trader Joe's customers want the company to take a stand on this critical public health issue by refusing to sell meat from animals routinely fed antibiotics."
Under the Trader Joe's private label, the company currently offers some chicken and beef raised without antibiotics, although all of their pork and ground turkey are from conventional suppliers.  But Trader Joe's shoppers don't want to worry about what drugs their meat was given: 78% said they'd prefer to shop at a supermarket that only sells no-antibiotic meat.
For a company that purports to listen to its customers, Trader Joe's so far has turned a deaf ear to its customers' repeated requests to stop selling meat raised with antibiotics. Over a half million petition signatures, thousands of emails and phone calls, and the company says  it will continue to offer meat products "from sources of a conventional nature (where antibiotics are likely used)."
It's a surprising position to take, given the preferences of their customer base. In fact, key competitor Whole Foods has been long committed to only selling meat raised without antibiotics, and restaurant chains such as Chipotle and Panera now tout their no-antibiotics meat to an ever-growing populace concerned about where their food comes from.
How long until Trader Joe's wises up and stops selling meat raised on antibiotics?  Since nearly 8 in 10 of their customers don't want to see these products on supermarket shelves, it should be soon.