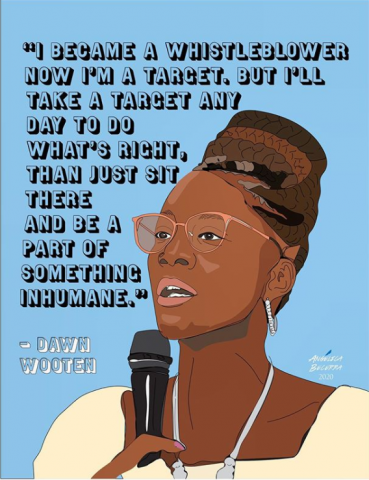 Policy Roundup: Trump's list of names for the Supreme Court and the ICE whistleblower complaint
As the nation mourns the passing of Supreme Court Justice Ruth Bader Ginsburg, President Trump is set to nominate her replacement while a federal court has ruled in favor of Planned Parenthood's ability to provide health care to people insured through Medicaid, highlighting the important role of a fair justice system. See below for significant federal policy and legal updates you might have missed from the National Asian Pacific American Women's Forum (NAPAWF).

With the passing of Justice Ginsburg, Trump set to nominate a Supreme Court replacement
The death of Justice Ruth Bader Ginsburg is a deeply painful loss for our country. She was a champion for gender equality and a pioneer for women. Already, President Trump has said he will announce his nomination for her replacement on the Supreme Court by the end of the week. We face ongoing, and growing, threats to our reproductive health and rights, to our rights as immigrants and people of color, and to our economic well-being. If President Trump is able to confirm a nomination, those attacks will intensify and risk being sanctioned by our highest court. We must fight to stop a nomination before the inauguration of a new president. This is a fight for our agency to make decisions about our lives, our families, and our communities, free from oppression and violence, so that we and our communities can thrive. 

20 Additional Names for the Supreme Court Released

On September 9th, President Trump released a list of 20 additional people he would consider naming to the Supreme Court. This new list adds to his existing list from 2016. The new names include Sarah Pitlyk, Stuart Kyle Duncan, and Senator Ted Cruz from Texas, who have demonstrated a bias against women, LGBTQ people, and immigrants, and a disregard for fundamental constitutional and civil rights.
Sarah Pitlyk built her career on being anti-reproductive rights, working to push for racist sex-selective abortion bans based on harmful stereotypes about Asian American and Pacific Islander (AAPI) women. Stuart Kyle Duncan also built his career attacking reproductive rights. He was the lead counsel in Burwell v. Hobby Lobby, a decision that allows privately held companies with religious objections to opt out of including contraceptives in their employer-sponsored health insurance plans. He also opposed marriage equality and represented clients in the courts against custody and adoption rights for same-sex couples and against transgender students' ability to use the bathroom that conforms with their gender identity. Recently, Senator Ted Cruz led a letter urging the Food and Drug Administration to ban mifespristone, medication used to facilitate medication abortion.

Read here for NAPAWF's oppositions to Sarah Pitlyk and Stuart Kyle Duncan.
Supreme Court justices continue to shape our laws for decades after the nominating president's administration. For example, Justice Clarence Thomas was appointed by George H.W. Bush in 1991 and continues to be on the bench, ruling against the numerous interests of AAPI women, women of color, pregnant people, and more over the past two decades. And as the final arbiter of cases, Supreme Court's rulings may have repercussions for similar cases around the country. We need a Supreme Court that recognizes and protects the rights of all of us.
Whistleblower reveals mass hysterectomies and other atrocities occurring in detention center in Georgia

On September 14, a whistleblower complaint was filed with the Department of Homeland Security Office of Inspector General revealing reports of mass hysterectomies being performed on women detained at Irwin County Detention Center in Georgia. Detailed in the whistleblower complaint, some women were unsure why the procedure, a surgery to remove a person's uterus and possibly their ovaries to render them unable to become pregnant, was performed on them or were not fully informed of what procedures would be performed on them. Reps. Pramila Jayapal (D-WA-7), Judy Chu (D-CA-27), Jerrold Nadler (NY-10), and Zoe Lofgren (CA-19) sent a letter signed by 173 members of Congress to the Department of Homeland Security's Inspector General urging him to open an immediate investigation into these reports. White supremacy has always included and depended on the dehumanization and control over women of color. The U.S. has a long history of forced sterilization of Black, Native, Mexican, Puerto Rican, Japanese women, and people with disabilities. Read more information on the history of forced sterilization and eugenics in the U.S.

House of Representatives passes the Pregnant Workers Fairness Act

Last week, the House of Representatives passed H.R. 2694, the Pregnant Workers Fairness Act, introduced by Rep. Jarrold Nadler (D-NY-10), which would address pregnancy discrimination in the workplace, promote healthy pregnancies, and protect the economic security of pregnant workers and their families. The bill would help prevent employers from forcing pregnant people out of the workplace and help ensure employers provide reasonable accommodations to pregnant people who want to continue working. Learn more about pregnancy accommodations in the U.S. and check out data on women facing discrimination in the workplace.

House of Representatives adopts resolution condemning anti-Asian sentiment during the COVID-19 pandemic

On Thursday, the House of Representatives adopted House Resolution 908 condemning all forms of anti-Asian sentiment related to COVID-19. Introduced by Rep. Grace Meng (D-NY-6), the resolution calls upon all public officials to condemn and denounce anti-Asian sentiment, racism, discrimination, and religious intolerance related to COVID-19. It also calls on federal officials to investigate hate crimes and other incidents and threats against the Asian American community. The resolution recommits U.S. leadership to prioritize language access and inclusivity in communication practices and combat misinformation and discrimination that puts Asian Americans at risk.

    •    Check out recent data on Black and Asian Americans experiencing discrimination amid the COVID-19 outbreak
    •    A study by the Asian Pacific Policy & Planning Council and Chinese for Affirmative Action found AAPI women have reported between two and three times more instances of harassment than men. 

South Carolina Cannot Exclude Planned Parenthood as a Medicaid Fund Recipient
The Fourth Circuit ruled that South Carolina cannot exclude Planned Parenthood as a provider in the state's Medicaid program. If South Carolina had been allowed to implement its rule, Planned Parenthood may not have been able to receive reimbursements through Medicaid for the reproductive health services it provides, including cervical cancer screenings and contraceptive counseling.
NAPAWF, along with the Center for Reproductive Rights, the National Latina Institute for Reproductive Health, and In Our Own Voice: National Black Women's Reproductive Justice Agenda, submitted an amicus brief in this case discussing the intersecting identities of people enrolled in Medicaid and why South Carolina's rule would disproportionately harm women of color, people with low-incomes, and those who face language barriers in a medical setting the most. Read the brief here.
Artwork by Angelica Becerra. To read more about federal updates that affect AAPI communities regarding reproductive health and rights, immigrant rights, and economic justice, visit napawf.org to subscribe to the AP(Eye) on the Hill newsletter or follow the National Asian Pacific American Women's Forum (NAPAWF) on Facebook or Twitter.