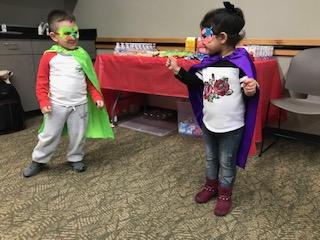 Playing for Change in Pasco and Spokane, WA
Eastern Washington MomsRising members gathered last week for two incredibly powerful Play-Ins in Pasco and Spokane in partnership with Child Care Aware of WA and Community Minded Enterprises. The events were focused on the early supports families need to thrive. MomsRising shared information about WA's new paid leave program, advocated for increased access to affordable, high-quality childcare, and collected stories on both topics (there was also lots of cape/mask decorating by the littlest superheroes in the room).
We were joined by thirty members for Saturday's bilingual English and Spanish event in Pasco. We've already seen some great coverage. Sunday's event in Spokane included sixty people.
We test drove our new video storytelling booth and captured some absolutely incredible stories from moms, child care providers, child care coaches, and more. Stories power change and we'll be using these stories to make sure Washington families have access to critical policies and programs.
Thanks to all our members and partners for showing up, sharing their stories, and taking action!