Play BINGO!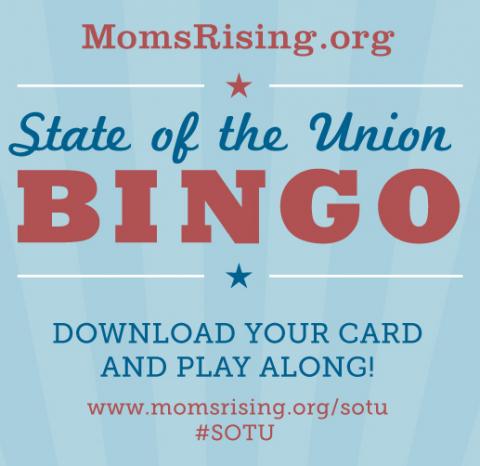 Play #SOTU BINGO online for the 2016 State of the Union Address!
Let's make watching the State of the Union fun! Play #SOTU BINGO with us to help track whether or not the issues of greatest concern to women, moms, and families are covered in the speech. And you can keep an eye out for those fun moments, too-- there are squares for jokes, for who's standing and who's sitting, and a free square for your own favorite moment.
Gather your troops (your troops can be just your cat, or your child, or your neighbor without a TV or good internet connection) and have a virtual party with us tonight! You can watch online here: https://www.whitehouse.gov/sotu
Download your free full-sized BINGO card here:  http://action.momsrising.org/sign/SOTU/
It'll look like this:
Tweet your BINGO points to us @momsrising or leave a comment right here!