Quick Signature!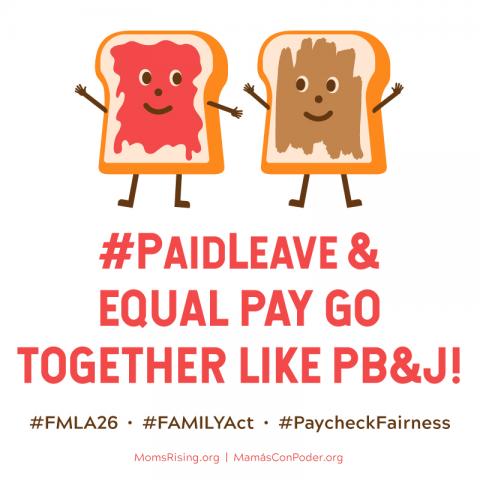 Like peanut butter and jelly, equal pay and paid family/medical leave aren't fancy concepts, they're not luxury items - they're basics that stand alone, but are better together.
That's the message we're taking to Congress and I need your help!
→ Add your name to our letter urging every member of Congress to co-sponsor and support the FAMILY Act - the paid family and medical leave insurance act that will soon be reintroduced in Congress. 
Here's the scoop: Last week the Paycheck Fairness Act was introduced with a record number of co-sponsors in the US House. This is important because the more co-sponsors a bill has, the better a chance the bill has for moving forward.
And while the Paycheck Fairness Act is a very important tool for closing the wage gap, we ALSO need the Family and Medical Leave Insurance Act (FAMILY Act)--a comprehensive paid family leave plan that leaves no one behind and is modeled after successful and proven programs in California and New Jersey. 
The FAMILY Act is an insurance program that would provide workers — including those who are self-employed and/or work part-time — with much-needed income while they, or a family member, welcome the arrival of a new baby or deal with a serious health issue. This new, self-sustaining program would be funded through very small, shared costs to employees and employers.
Tell Congress you want the FAMILY ACT now!! 
And the need is urgent. Right now, only 17% of workers in the United States have access to paid leave through their employers. This means that when the unexpected happens, most families end up cobbling together some combination of vacation time and sick days and then cross their fingers that nothing goes wrong and that they'll be able to make ends meet.
The FAMILY Act will be reintroduced soon and we want to get as many co-sponsors on the bill as possible, especially all the new members so that when the bill is introduced there is a strong show of Congressional support.
→ Add your name now, with just a few clicks, and we'll deliver it to your member of Congress urging them to co-sponsor the FAMILY Act. 
Care is care is care: Whether it's to care for a newborn you swear already smiles, a mom who is severely ill, or a spouse battling cancer, being there for family is what matters. No one should permanently lose their job when an urgent and unexpected family matter arises.
*****Take action now and be sure to share this email or link below with your friends and family so they can take action too. https://action.momsrising.org/sign/FAMILY_Act_Intro_2019/?t=blog
Together we're a powerful force for women and families.
P.S. Do you have a personal experience you can share about the need for paid family and medical leave? Either how it's helped your family or how you've struggled without it? Tell us about it and we'll share with decision-makers to help them understand why paid family and medical leave is so important!