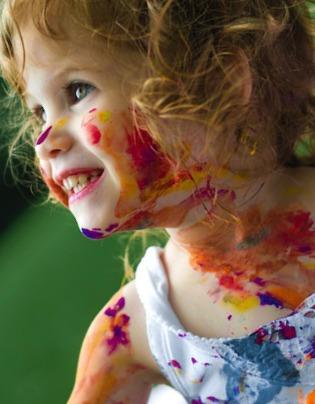 *** Want more information on raising multilingual children? Visit MomsRising's bilingual parenting resource site: http://action.momsrising.org/survey/bilingual_baby/?source=blog
Yes, Si, Oui! My daughter is currently on a unique language journey that she has unknowingly embarked on since birth. The decision of raising our children to be bilingual and biliterate has always been at the forefront of our parenting. However, as our daughter got older, we decided that it would be beneficial for her to learn yet another language. This decision has created a unique path for her learning, but has not come without some resistance or questioning from others.
Though my husband and I know about the numerous cognitive and social benefits of language learning, we often find ourselves demystifying the idea that learning multiple languages simultaneously will cause delays in English language acquisition.
Won't she get confused?
How will she learn how to read?
She won't be fluent in any language, will she?
French? What is she going to do with that language?
These have been a few of the questions that we have tackled as we try to educate others about the benefits of multilingualism.
Because my husband and I both speak Spanish fluently, we felt the need to immerse her in the language since birth. (We have have already begun the same journey with our newborn son as well). We were never too concerned about her English language learning, because we knew that the exposure to that language is dominant in the U.S. However, the idea of introducing French to her came about during a family trip to Europe when she was only two years old. We found ourselves navigating our trip with ease because I knew a language that was prevalent in many countries that we visited. Our Eurotrip experience led us to researching the benefits of learning French. It was then that we decided our children would be multilingual learners and take on the French language.
However, we weren't quite sure how to start. We had been so focused on Spanish that we had to think about how we were going to add yet another language. We started off slowly. We introduced colors and numbers through games and songs, read bedtime stories, and even I made up a special lullaby for her and her baby brother in all 3 languages!
PC: Markus Spiske on UnSplash
We also continued on our Spanish language journey, as our goal was to get her in a Dual Language Program as a native speaker. After one year in mommy and me Spanish classes, and two and a half years in preschool, we noticed that our efforts were not in vain. Soon, we heard our daughter having conversations in Spanish, building her vocabulary registers, easily navigating between both languages through translanguaging, and making connections between the two languages. Thanks to our consistency, persistence, and patience, along with the amazing early education teachers she had at Yak Academy's Immersion Preschool, our daughter was accepted into a 90/10 Dual Language (DL) program as a native Spanish speaker. It was then that we decided to increase her exposure to French and enrolled her in French classes at the same location where she went for preschool.
It has been amazing to see our daughter engaged in the language learning process, learning how to read in Spanish and transferring those skills to her English and French language and literacy learning. She is excited and is naturally discovering cognates all around her! "Mami, the tomato, el tomate, and la tomate are all the same!"
While we don't expect our children to be future UN Ambassadors (although, we would gladly support it), our hope is that this unique language journey they will both experience will teach them more than just multiple languages. It is our hope that through language, our children will become more compassionate and accepting individuals. Through this experience, they will have opportunities to create change in our society, advocate for themselves and others, and be open to exchanging views and ideas with diverse cultures.
In the meantime, we are content with hearing her say "Hello, My name is ...." in three languages, and maybe add a fourth one in the near future.