Parents Need to Eat, Too: The New Mom's Pantry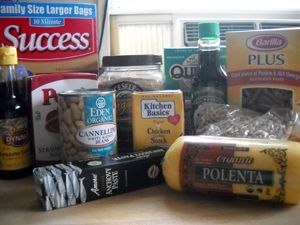 A few times a year, I teach a cooking class for new moms. At the beginning of each new session, once coffee is poured and babies settled, I ask the group what they hope to get out of the class. The answers usually fall into one of three categories, even though each woman's situation is unique. A brand-new mom might love to cook, but hasn't yet figured out ways to actually do it with an infant constantly attached to her body. A mom of two or more might want help with time management—no surprise there. And moms who are less comfortable in the kitchen want simple, healthy stuff that doesn't stress them out.
The place to start for all of this is the pantry. When you're dealing with a newborn—or three under four, for that matter—supermarket shopping is one of those priorities that often gets pushed aside. So having cupboards stocked with things that can make quick, nutritious meals is key. Equally key is knowing which processed foods—yes, you read that right, I said processed foods—are helpful and even necessary at this stage of the game. My rule for moms who are living on takeout and wishing they could cook instead: Aim for good enough. Anything homemade is better than yet another order of Kung Pao Chicken. If it's jarred spaghetti sauce, which I believe is a must for the New Mom's Pantry, look for one with as few ingredients as possible, and only ingredients you'd use if you were making it yourself. High fructose corn syrup is not an ingredient in Little Gram's Sauce.
That said, here's my list of must-haves for the New Mom's Pantry:
PASTA, RICE, GRAINS

Whole grain pasta, whatever shapes you like. We're big fans of the "multigrain" varieties that include legumes and flax; they taste much more like regular pasta than whole wheat, which means my son doesn't notice a difference. To cover your pasta-needing bases, keep on hand: strand-shaped, like angel hair (which cooks fastest); tube-shaped, like penne or rigatoni; and small-shaped, like orzo, to add to soups, etc.
No-boil lasagna noodles. Did you catch the "no-boil" part? Nuf said.
Boil-in-bag brown rice: Normally I'd say to hold out for the real thing in order to get the full nutritional benefit, but frazzled parents don't have that luxury. The bagged kind is still healthier than white, but it's much quicker to cook and it holds well.
Long-grain brown rice: For times when you do have the wherewithal. And it's vital for Lentil & Brown Rice Soup.
Aborio rice: You can make a super-easy risotto in the slow cooker, so you'll want to keep some on hand.
Shelf-stable polenta logs: If you can find shelf-stable polenta rather than the refrigerated kind, go for it. It'll last longer, and who knows when you'll have time to cook it.
Quinoa: Not technically a grain (though it behaves like one), quinoa is full of protein, fiber, magnesium, and iron, and gluten-free, it's a fabulous thing to keep on hand. Cooks quickly, too!
Steel-cut oats: Oatmeal has long been believed to be a galactagogue—something that increases breastmilk supply—and making steel-cut oats overnight in the slow cooker is about the easiest thing in the world.
Cornmeal: Oh, how I love thee, cornmeal. Cornbread is a quick and easy way accompaniment for chili, soups, etc, and can easily be thrown together during baby's nap.
Couscous, whole wheat if you can find it: Boil a little salted water, dump it in, and it's ready in five minutes. Quicker than take-out.
CANNED & JARRED GOODS

Beans, beans, beans: Black, white (cannellini), chickpeas, red kidney… Look for brands whose cans are BPA-free.
Broth: Chicken, beef, vegetable. My cabinet always has juice-box sized and quart cartons. Look for low-sodium varieties.
Olive oil: You can get by just fine with a mid-priced extra-virgin, but I like to keep both an inexpensive virgin oil for cooking and a fancy-shmancy extra-virgin for salads and drizzling.
Tomatoes: chopped or diced (without added seasonings like basil or garlic), sauce, puree. Don't bother with whole unless you like squishing them in your hands—chopping is just another step you don't need! To avoid BPA, buy in cartons or jars.
Tomato paste in a tube is a must-have—very few recipes call for an entire can of paste, so with a tube you squeeze out what you need & refrigerate the rest.
Anchovy paste in a tube is a must-have for similar reasons, even if you think you don't like anchovies (I don't!). The paste dissolves into the dish & leaves a depth of flavor that's subtle but important.
Chipotles in adobo: Buy a small can, use them sparingly with seeds scraped out & discarded (and don't forget to use the sauce!), and refrigerate the rest indefinitely. Adds warmth and a bit of heat to tomato-based dishes, beans, etc.
Tuna: I always buy light tuna in olive oil, imported from Italy—it's in most supermarkets. Light tuna has fewer mercury worries, and the Italian stuff is very good quality. Jars are relatively costly, but also BPA-free.
Jarred pasta sauce: Hey, I'm a realist. Sometimes the best you can do—really—is spaghetti with jarred sauce. All I ask is that you make sure you buy the good stuff. It costs more, but a look at the ingredients list will show you why: It'll be made from real stuff. Tomatoes, garlic, olive oil, salt, maybe basil. And even though it may set you back eight bucks a jar, premium sauce is still cheaper—and healthier—than takeout. Plus it's useful for a quick lasagna or baked ziti.
Artichoke hearts: Use marinated ones to liven up salads (I use the marinade to make a quick salad dressing), and plain ones in recipes.
Reduced-sodium soy sauce: A dash of this adds flavor (and salt, of course) to everything from salad dressings to marinades. Not just for stir-fry.
Worcestershire sauce: The secret ingredient in many meat or mushroom recipes, its uses are practically limitless.
Rice (also labeled rice wine) vinegar: Adds a light Asian flavor to salads, sauces, marinades.
Sesame oil: Same as the rice vinegar.
Barbecue sauce: Just like with pasta sauce, look for as few ingredients as possible, and ones that you recognize. Try to avoid high-fructose corn syrup.
Dry vermouth: I use this as a substitute for white wine in risotto and just about any other recipe that calls for it. Once opened it'll stay good in the fridge pretty much forever, so I never have to worry about wasting a good bottle of wine. Of course if you drink white wine regularly, skip this one.
Mustard: for sandwiches, salad dressings, recipes.
Peanut butter: Look for "natural" peanut butter—the only ingredients should be peanuts and salt. It's the kind with the oil floating on top; it's a pain to stir it back in the first time, but if you keep it in the fridge after that it won't re-separate.
DRY GOODS

Split peas, red lentils, green (brown) lentils: None need pre-soaking and all cook quickly, so they're perfect for healthy, no-planning-needed meals.
Nuts: pine nuts, pecans, almonds (whole, slivered, sliced, Marcona)—whatever kinds of nuts you like, keep some on hand. Toss into salads, pasta dishes, oatmeal.
Flour: all-purpose and, if you like to bake, whole wheat.
Breadcrumbs: Sauté a half-cup in a tablespoon or two of olive oil for a quick, crunchy topping to liven up spaghetti & jarred sauce. Even better when you add some grated parmesan cheese.
Sun-dried tomatoes: I prefer the kind that's NOT packed in oil, for calorie-watching reasons. But if you're not concerned with that, the oil-packed ones are deeelicious.
Dried fruit: Whatever kinds you like. I always have raisins, cherries, blueberries, cranberries, papaya (Harry's favorite), and figs.
Next time, I'll cover produce and the freezer.
What are your favorite pantry items?