Parents Need to Eat Too: The New Mom's Fridge & Freezer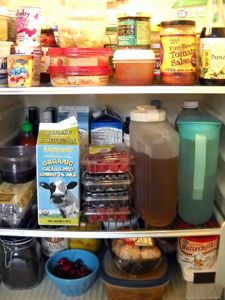 In my last post, I wrote about how, for a frazzled, time-pressed new (or not-so-new) mom, having a pantry stocked with well-chosen ingredients can make the difference between a healthy, homemade—but still easy—dinner and another night of takeout. Today, let's talk cold. As in, the fridge and freezer.
Yes, things go bad in the fridge. When my son was a newborn, I threw out so much squishy, stinky, slimy, weeks-old produce it made me cry. (Granted, just about anything made me cry in my super-hormonal postpartum days.) But there are some standard items that should last long enough for you to actually use them. What follows is a list of foods I try to keep on-hand at all times.
How about you? What do you keep in the fridge or freezer for quick, healthy meals?

DAIRY
Shredded part-skim mozzarella and cheddar. Normally I'd say to buy a block and shred it yourself, but we just don't have time for that, do we?
Parmigiano Reggiano. A chunk of it. This one is worth grating yourself. I like to grate about a cupful at a time and keep it in a small airtight container. Takes about five minutes, once every few weeks, and the flavor is so.much.better than pre-grated.
Low- or non-fat plain yogurt. A really good smoothie can be a meal replacement on an especially stressful day.
Milk, of course. My husband and I use 1%, and junior drinks 2%. Not exactly efficient, but it works for us. By the way, if you can only afford to buy one thing organic, many experts say to choose the thing you eat the most. For most kids, that's milk.
Cheese sticks and lower-sugar flavored yogurt. Both for Harry—when he doesn't like what I've made for dinner (which happens, in all honesty, most nights), he's allowed to help himself to either or both.
Eggs. I have a fried egg whites sandwich for lunch at least once a week. And frittata for dinner is easy and delicious. If you can't afford organic, try to go with Certified Humane, which is safer for both the chickens and you.
Cream cheese. Another easy lunch, another make-it-yourself alternative for Harry.
VEGETABLES
These are the choices that work best for me and my family—they're the vegetables we like the best, that get eaten quickly. For the most part, they'll also stay good in the fridge for a week or more. As for organic vs. conventional, I can't afford to go exclusively organic so I carry a little wallet-sized printout of the Environmental Working Group's Dirty Dozen and shop from that.
Zucchini
Eggplant. This gets more bitter the longer it's in the fridge, so try to use it within a few days of purchase. Or, y'know, skip it.
Red peppers
Grape tomatoes. They stay fresh longer than the biggies, in my experience. And refrigeration doesn't bother them, the way it does other varieties.
Carrots
Baby carrots. Quickest healthy snack ever.
Celery
Avocado. Terrific for babies. Buy them fairly hard, and let them ripen on the counter. Once they've got some give to them, refrigerate and use within 2-4 days.
A few non-refrigerated vegs:
Potatoes: I keep Yukon Gold and Sweet Potatoes on hand. YGs are versatile—mashed, roasted, in stews—and SPs are super-healthy. Plain ol' Russets are also good: a stuffed baked potato can be a perfect easy dinner.
Onions. Even though they both require storage in a cool, dark space, DO NOT keep onions and potatoes next to each other. Each releases a gas that makes the other spoil faster.
Garlic
FRUIT
These are the best choices for longer-term storage:
Apples. They'll stay good for weeks, even months, in the crisper.
Pears. Buy them when still fairly hard, and you've got at least a week, sometimes more, before they turn mushy.
Oranges
Grapefruits
Clementines
Lemons
Limes
MISCELLANEOUS
Turkey bacon. I use it for breakfast, of course, but also in a BLT for a quick lunch, and in recipes that call for a hit of smoky flavor.
Corn tortillas. Much healthier than flour (they're made from whole-grain corn, and the calorie count is surprisingly small). Use some of that shredded cheddar and whatever leftovers you've got to make quesadillas.
Hummus. Yes, making your own takes minutes. But sometimes you don't have minutes. Scoop it up with those baby carrots, toss in a few whole-grain crackers, and lunch is served.
FREEZER
I buy all my frozen fruits & vegs in bags, never boxes—that way I can use as much or as little as I need, without having to defrost a block. Always buy fruit with no added sugar; frozen produce is usually picked when perfectly ripe, so it should be plenty sweet.
Chopped spinach
Mixed vegetables (corn, green beans, peas, and carrots)
Peas
Corn
Broccoli. I prefer fresh, but there are days when I just don't have the time to do all that chopping.
Mixed berries and/or strawberries & blueberries
Sliced peaches
Mango
Grapes. Unbelievably good as a snack. Some say they're better than sex.
Pre-made piecrust. This + leftover chicken + frozen vegetables = chicken pot pie!
Ground turkey breast
Ground beef (I buy extra-lean—it's got less fat & cholesterol than regular ground turkey)
Bison burgers (bison, also labeled as buffalo, is even better for you than extra-lean ground beef!)
Veggie burgers. Some brands are very high in sodium; read the labels carefully.
Whole wheat hamburger buns. So you can have an impromptu burger dinner.
Whole-grain waffles. Toast, add some frozen berries & syrup, and you've got breakfast (or breakfast-for-dinner).
Ice cream (every new parent needs ice cream)